Thousands of workers in Da Nang City, and Hau Giang and Khanh Hoa provinces went on strike yesterday to protest against salary, bonus and vacation policies.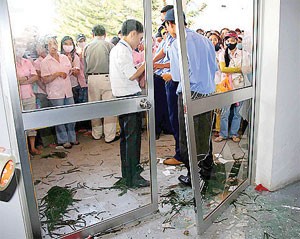 Workers at Keyhinge Toys (Vietnam) Co. gathered in front of the office building and broke the glass door on Jan 30.
More than 500 workers at Hau Giang-based Cafatex Joint-Stock Company in the southern Mekong River Delta demanded company leaders and the labor union to clarify bonus policies for the upcoming Lunar New Year or Tet.
They later went home after company leaders sent representatives to make official announcements about the bonuses.
At the Hyundai-Vinashin Shipbuilding factory, a Viet Nam-Korea joint-venture, in the central coastal province of Khanh Hoa, workers picketed in small groups and when factory leaders refused to meet them, thousands flocked to the office building, requesting to see the general director.

As director Sung Woo Lee remained in the office, some workers rushed in to demolish the office, broke lamp-posts and overturned several cars. Some 40 bodyguards were present but could not do anything to ease the situation.
The company earlier announced to pay them the same salary for January this year as in 2007, against a Government-stipulated hike nationwide in minimum wages.
Police and authority representatives had to come to the factory to calm them down.
The same day, around 10,000 workers at Keyhinge Toys (Vietnam) Co., a 100% Hong Kong-owned toy factory based in Hoa Khanh Industrial Zone in Da Nang City in the central region also went on strike.
Some even threw hard objects at the company's guards. Thousands jostled their way through the front glass door of the office building; causing it to shatter. Two workers and a guard were injured.
Local police immediately arrived at the site to disperse the crowd.