Those in charge of controlling the spread of Porcine Reproductive and Respiratory Syndrome Virus have been too complacent, Deputy Minister of Ministry of Agriculture and Rural Development Bui Ba Bong told a Sai Gon Giai Phong reporter.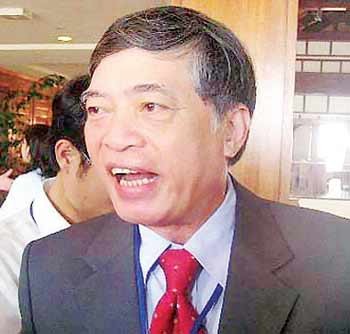 Deputy Minister Bui Ba Bong talks about the government's measures against Porcine Reproductive and Respiratory Syndrome Virus spreading in the central regions
The epidemic has spread across the central region and has developed in a complicated way.
Mr. Bong explained that some farmers sell their diseased pigs without veterinary supervision, which has caused a major outbreak in the central region.
The disease will spread north and south if those in charge of controlling the disease relax their guard, he added.

The public suspects that his ministry had a slow reaction to the disease, he said.
Since the pandemic started in the central province of Ha Tinh, the ministry has sent a dispatch instructing provincial authorities to tighten their supervision of the disease.
Yet it is difficult to supervise pig slaughter, sale and transportation due to a shortage of human resources. The disease spreads rapidly and farmers have little knowledge of how to prevent or control it.

Unscrupulous traders are cashing in by buying diseased pork at low prices and then selling it for full price. Diseased pork is often thrown into rivers and reservoirs because many farmers do not realize that this causes the disease to spread.

The deputy minister stressed that the Department of Animal Health plan to cull diseased pigs. The entire machinery of state must mobilize and take drastic action to fight this disease, he added.

Mr. Bong said that the Ministry of Agriculture provided guidance concerning breeding programs and inoculation, as well as the disinfection of disease-hit areas.

The Agriculture and Finance Ministries have agreed to a plan to provide compensation to farmers whose pigs are culled, but are waiting for the government's approval.

To date, the outbreak has affect four central provinces, Ha Tinh, Quang Nam, Thanh Hoa and Nghe An.

Thanh Hoa has culled 41,000 disease pigs. Veterinarians have done sterilization in affected areas. Inspectors are working round-the-clock to ensure that diseased pork is not transported out of affected villages.