In the aftermath of the tropical depression, floods following heavy rains have inundated thousands of houses in the Central and Central Highland Regions, with reports of 30 people having died or missing, with 14 being from Binh Dinh Province.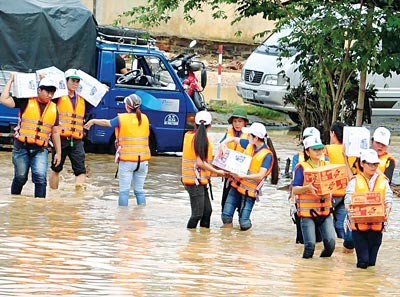 Food assistance reaches An Phu Commune in Quang Ngai Province(Photo:SGGP)
National Highway 1A through An Nhon Town and Tuy Phuoc District was submerged under floodwaters. A 10km line of waiting north-south buses queued for hours at the two gateways into Binh Dinh Province. Binh Dinh Airport has temporarily closed due to flooding and five north-south trains have been suspended due to heavy rains.
Seven boats carrying 10 fishermen drifted out to sea in Quang Ngai Province on November 16.
Torrential rains have inundated thousands of houses in Thua Thien-Hue Province since November 15. A large number of visitors have been evacuated out of Hoi An ancient town which is under heavy floods.
Local authorities are carrying out urgent measures to deal with the flooding and trying to restore life back to normal.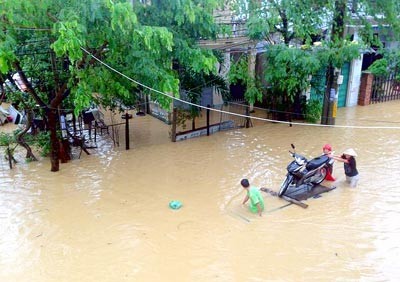 People being evacuated out of Hoi An ancient town (Photo:SGGP)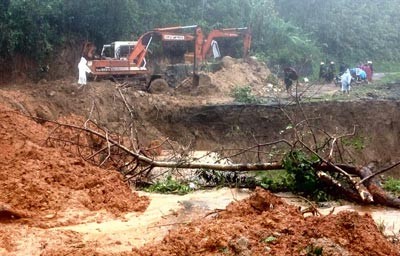 Landslides along Highway 24 in Kon Tum Province (Photo:SGGP)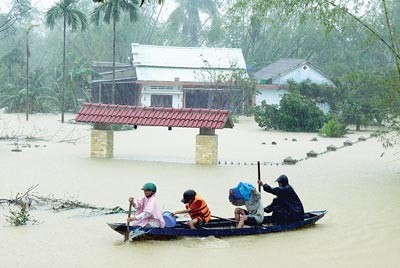 Hoa Phong Commune in Hoa Vang District in Da Nang City is submerged under floodwaters (Photo:SGGP)