The Berlin authorities launched a campaign: "Berlin-your face" to honor excellent citizens who have contributed in the Berlin development in May 2010. Among 204 citizens is a Vietnamese woman- Mrs. Tran Phuong Hoa.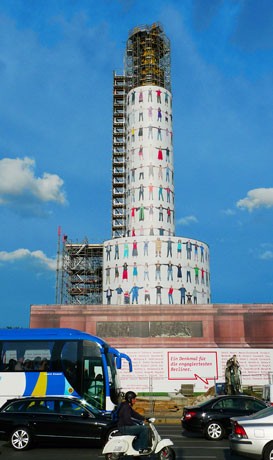 Berlin displays photos of its excellent citizens at the Victory Column. (Photo: Fred Zimmermann)
Traveler, if you wish to see the Victory Column in Berlin you will, alas, no longer find it!
No, it has not been demolished to make way for a new shopping Plaza. As with many other German historical monuments, this symbol of 19th century national pride has finally been scheduled for the thorough cleaning and renovation that it has needed for so long.
The scaffolding rising 69 meters from the base of the Column to the tips of the wings of the Goddess of Victory is itself worth more than a passing glance. As German law requires that both the workers and the environment be properly protected, this scaffolding is shrouded in plastic. This is prime advertising space and leading companies compete fiercely to be able to advertise their products to Berliners. Famous logos, slogans and advertising messages contained in mega posters clamor for the attention of passers-by in the streets below.
But, even if it is good business, more and more residents and tourists in Berlin are offended by the visual pollution created by these absurd, tasteless or inappropriate billboards. And for once these feelings have been translated into action.
So here, at the Victory Column, the City authorities have resisted the more tempting offers of the advertising industry and have laid down strict guidelines. Thus, no advertising of underwear or shampoo is permitted. Instead the City of Berlin has displayed photos of 204 of its citizens.
I look closely and discover on the top row Mrs. Hoa Phuong Tran, hand in hand with Ms. Barbara Krauss (left) and Ms Birgit Albers-Peil (right).
Who is Ms. Tran? I obtain an appointment with Ms. Tran. She tells me how it all began.
Under the slogan "Berlin, your face" The City launched a major campaign in May 2010. Residents of the capital were asked to nominate engaged citizens from their own neighborhoods who could inspire others by serving as role models and whose behavior could be emulated. Mrs. Tran was nominated by her neighborhood and was selected by the campaign jury.
Why does Mrs. Tran show her face? I quote from the material published on the campaign web site that can be read by everyone:

"With a degree in music education Ms. Hoa Phuong Tran has been working for ten years to ensure that Vietnamese children and teenagers get the opportunity to learn the language of their parents. But just learning the language is not enough. For them, it is equally important that children learn to know their exact origin and learn about the culture. Creativity in their teaching is very important. Ms. Hoa Phuong Tran teaches vocabulary and grammar in addition to a variety of Asian instruments. The joint training of the language and performances with a young music ensemble brings sense to the community. This is how the find back to the roots and come about to self-confidence."
I wanted to know a little more and met her in a Berlin restaurant.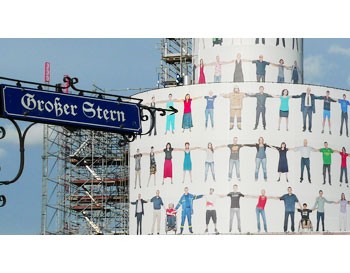 Photo pf Mrs Tran Phuong Hoa is pointed at the Victory Column (Photo: Fred Zimmermana)
In 1991 Mrs. Tran came with her husband and a daughter from Hanoi to Germany. Their second daughter was born near to the former capital Bonn where they originally lived. In 1996 the family moved to Berlin. She speaks of her passion for music and for teaching music. But she quickly learns that in the community of immigrants from Vietnam, the children and especially young second-generation Vietnamese-Germans are hugely enthusiastic to learn more about the language and culture of their parents and grandparents.
Mrs. Tran convinced me that her language courses are not part of a nationalistic agenda. Learning Vietnamese grammar is not meant to ensure the preservation of Vietnamese ideals and traditions, but rather to promote open-mindedness and self-confidence in the multicultural society of Berlin. The search for identity begins with language. And, as to give an example, many young learners in her course want to know how to swear in Vietnamese and to have swear words explained to them. Vietnamese music and genuine Vietnamese cuisine are equally important for matchmaking: a kind of identity, said Mrs. Tran.
The rusty guns dating from the year 1871 on the shaft of the Victory Column will be re-painted in gold during the next few months. The symbolism of the human pyramid on the poster which now covers about 1.3000 square meters of the plastic shroud surrounding the Column is not hard to see. Mrs. Tran and her friends have got the message. They now know that nationalism and non-acceptance in Berlin society can be overcome by showing your faces. In search of the Victory Column visitors to Berlin will find, during the period of the renovations a new more contemporary metaphor.