Three years after the law allowing Vietnamese laborers to work abroad was enacted, Viet Nam is leading the top ten countries that send large numbers of workers to the Republic of Korea.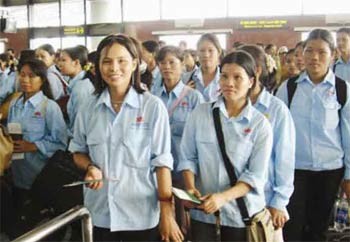 Vietnamese workers on the way home from abroad after a few years of working in a foreign country
In discussing why Korean companies have been interested in Vietnamese laborers, Mr. Dao Cong Hai, deputy director of the Department for Administration of the Foreign Employed Labor Force, emphasized that it is due to this country's well-prepared workforce. Vietnamese laborers prepare to join the international workforce by studying the new language and laws, learning about Korean culture and customs, and of course, training for the necessary job skills.
 
Mr. Hai added that Vietnamese workers possess many good qualities: they are studious, willing to acquire modern techniques, and able to master new jobs in a short time period. 
 
With its new policy on foreign laborers, Korea now offers Vietnamese workers greater benefits, including wages equal to those of Korean laborers and opportunities to resign their contracts. 
 
Mr. Hai stated that any Vietnamese workers who are planning to work in the Republic of Korea should directly contact the local Department of Labor and Social Welfare.