Making up 21 percent of the population of the country, the Mekong Delta should supply significant man power for regional provinces; instead it is coping with high unemployment rates. Why?

According to the Ministry of Labor, a recent report conducted by War Invalids and Social Welfare shows that at present the majority of people in the Mekong Delta have been given access to elementary education only. In addition to low educational levels, the report stated that 83.25% of employable people in the Delta have not been equipped with any specific vocational skills.

The Mekong Delta now has 280 vocational centers, including 101 which are privately owned. In 2006, these centers provided vocational training to over 380,000 working people and placed them in plants and factories around the region.

The report, however, stressed that most of these centers failed to meet the actual requirements of the labor market. Additionally, due to inappropriate curricula and a lack of regular teachers, they fail to attract a large number of unemployed young people in the region.

The report pointed out that in order to be fully qualified for their training task, 50 percent of current teachers need further training. Centers will also have to improve and update textbooks and curricula to reflect the latest advances in technology and techniques. Above all, even a short-term vocational program would meet with limited success in the region due to the low levels of education that dominate the Delta.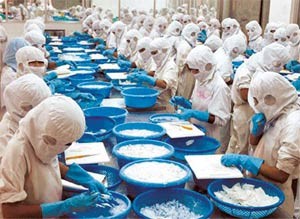 A aquaculture company in the Mekong Delta creates jobs for hundreds of local workers
The Mekong Delta has a number of large-scale industrial zones like Tra Noc of Can Tho City, My Tho of Tien Giang Province, and others in An Giang, Dong Thap, and Vinh Long which require nearly 300,000 skilled workers for their 85,000 workshops, factories, and plants. In order to meet this demand, the local government has urged regional vocational centers to take prompt action to improve their training quality.

Some vocational schools have responded realistically to the appeal by offering training courses based on the actual requirements of jobs and on the actual demand of the labor market. These centers incorporate programs on the development of agricultural, fishery, and industrial expansion. Trainees learn through a hands-on approach involving field trips to related factories or workshops. These programs have created self-employment for tens of thousands of local and ethnic minority people.

To ensure a balance of supply and demand for the regional and local labor markets, the Ministry of Labor is coordinating with the local authorities to set development plans for industrial zones and vocational centers in each province of the Mekong Delta.

Additionally, the regional provinces will conduct surveys under the 2006-2010 National Program on Human Resources Development to determine the actual labor demand and supply of their locality.


From now to 2010, the government will invest VND 770 billion in vocational and employment programs to create jobs for people in the Mekong Delta.

According to the program, by 2010, the region will have 31 vocational high schools including two for ethnic minority people, and 119 vocational centers.

The Vinh Long College of Technical Teacher Training will be raised to the scale of a university so that it can supply 2,000 regular vocational teachers for the whole region. Can Tho and An Giang Universities will be allowed to establish their own faculty of technical teacher training.