At the end of 2007, the difference in fuel prices between Viet Nam and Cambodia was VND2000-2500. Smuggling through the border in Tay Ninh, Long An and Dong Thap provinces is very common. People use agricultural vehicles with home-made fuel tanks which can contain more than 300 liters or plastic cans to buy fuel at filling stations.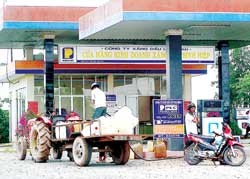 Buying petrol in bulk usually arouses suspicion
Authorities in these provinces have allocated monthly quotas and forbade filling stations near border gates from selling fuel to customers who use cans.
However, other filling stations are not affected by this policy. Smugglers continue to buy fuel in large amounts and take it to Cambodia for selling. On June 27, at noon on the provincial road 792 to Xa Mat border gate, Tay Ninh, there were a lot of motorbikes with light and flattened plastic cans moving fast to Tay Ninh.
At the same time, many vehicles were driving contrariwise carrying four cans of fuel in jute bags. The others were carrying heavy carton containers and bamboo baskets at rear seats and a jute bag in front. Near Xa Mat border, crowds of porters were walking publicly. Many motorbikes ran away to the cashew tree forest for fear of competent authorities.
While fuel is flowing out, tobacco is flowing in. Prices of Jet and Hero brands in Vietnam is now higher than in Cambodia by VND500 to 1000 a cigarette box. Tobaccos smugglers usually use motorbikes to carry tobacco through National Road 22, Thay Cai waterway, Provincial Roads 825 and 823 from Tay Ninh to Long An. Then tobacco will be carried to a place of delivery by canoes through a small irrigation canal.
On the first six months this year, border guard team of Chang Rieng border gate and economic police of Tay Ninh province seized 10,000 liters fuel. A truck with nine barrels of petrol – nearly 2,000 liters -- was seized. The police also discovered Mr. Nam Thai drawing out petrol from 2 home-made fuel tanks to cans. Twenty cans and two ploughing machines were confiscated. Hoa Ngoc Diep filling station, about 20m away from Chang Riec border gate, has sold 15.000 liters per month.
The Vietnamese government has to subsidies VND5,000 per liter and it is estimated that isn has cost the state VND25 million. Binh Hiep Commune, Moc Hoa District, Long An Province has seven filling stations, if 1,000 liters of petrol per station were smuggled through the border every month, the state budget will loss VND35 million a month. Border guards in Duc Hue, Long An province estimated that more than 20,000 tobacco were trafficking into Vietnam everyday but only 5 percent to 7 percent are arrested.
Smugglers live mostly along the Vietnam-Cambodia border. Some of them are professional, but many of them take advantage of the time between harvests to make money in other ways. The "porters" will get VND50,000 for carrying a fuel can through a 500m-700m stretch of road while the highest fee for each working day in rural is now only VND35,000.  More and more people have joined the smuggling activities.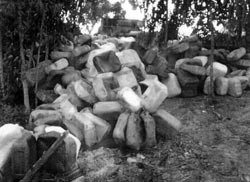 Hundreds of plastic bags used to traffick petrol across the river
Both road transport and waterway are used for smuggling and the fight against smuggling has to face many problems. Colonel Le Duc Hanh, deputy commander of the border patrol in Long An province, confessed that smugglers understand that anti-smuggling activities would not be courageous for fear of affecting local people so that they could escape in many cases.
In principle, market managing team, economic police, customs and border guard army are jointly responsible in the fight against smuggling. In reality, market managing team and border guard army have involved but due to the lack of staff in market managing only border guard army has taken the responsibility. Anti-smuggling activities are facing a lot of difficulties.
In fact, in spite of all these efforts, smuggling activities are increasing in both size and number. The difference in fuel prices between Vietnam and Cambodia is the root of the problem. Vietnam-Cambodia border is 1,400 km long. People of the two countries live closely so it is very difficult to control smuggled goods.
Moreover, the implementation of anti smuggling solutions is facing a lot of challenges. It is not easy to force fuel stations obey the shelling policy because many of them are supported by local officials.  The competent authorities should have concrete and effective solutions against smuggling in order to reduce the loss of state budget to a minimum and ensure order and security at bordering region.