The Center for Preservation of Co Loa Citadel and the Hanoi Citadel will be open for visitors during Tet, its deputy director, Tran Quang Dung, has said.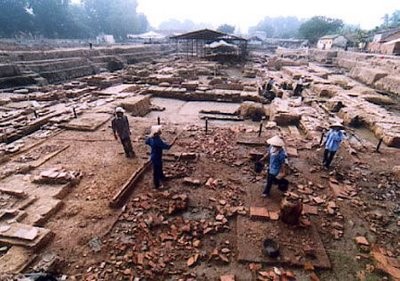 the ancient capital of Thang Long, which was founded by the Ly dynasty a millennia earlier
Visitors can see the Thang Long Royal Citadel – the ancient seat of power in Vietnam -- where excavated relics are on display.
 
There will also be rituals, handicraft and bonsai exhibitions, calligraphy, dragon dances, folk music performances, and traditional games organized at the center during the New Year.
A traditional Tet ceremony will be held on January 29 featuring traditional music and dance and sacrificial rituals.
A kettledrum cast in Vietnam will be played at the Kinh Thien Temple on February 2.
Mr. Dung said together with the "Ancient Citadel's Spring Charm" festival in 2007 and the "Thang Long Royal Citadel Festival" last year, this year's event would be a dress rehearsal for the capital's 1000th anniversary celebrations next year.