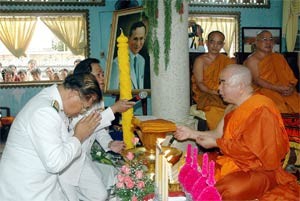 Pho Minh Pagoda's chief monk Thich Thien Tam receives a robe offered by the Thai King on Saturday
Pho Minh Pagoda in Ho Chi Minh City held a ceremony on Saturday to receive Buddhist robes offered by Thai King Bhumibol Adulyadej on the occasion of Kathina, main Buddhist festival in Thailand that is celebrated during October or November.
Attending the ceremony were Viet Nam's Buddhist senior clerics and representatives of the Viet Nam Fatherland Front, the Thai Royal Family, the Thai Embassy in Ha Noi, the Thai Consulate in Ho Chi Minh City, as well as Thai and Vietnamese Buddhism followers.
The offering came on the occasion of the Vietnam Buddhist Sangha's 25th anniversary on November 7.
The Thai King, who is in the 60th year on the throne, has offered Buddhist robes to Pho Minh Pagoda in Go Vap District two times so far.