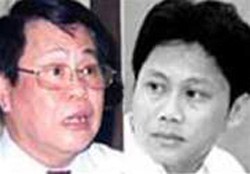 Mai Van Dau (L) and his son, Mai Thanh Hai.
A trial involving former Deputy Minister of Trade Mai Van Dau on charges of bribery in a textile-garment quota scandal started this morning in Ho Chi Minh City.
Fourteen defendants, including Mr. Dau and the former Deputy Director of the Import-Export Department, Le Van Thang, were present at the Ho Chi Minh City People's Court.
The defendants were accused of eight crimes including making corrupt use of their position in service, giving bribes and taking bribes, acting as intermediaries for bribery, and others.
Some of the defendants, including Dau and his son, Mai Thanh Hai (also an Import-Export Department official), have been accused of giving and taking bribes, and appropriating assets.
Apart from the defendants, 24 individuals and agencies have been summoned to the trial, including a Deputy Trade Minister representing the Ministry of Trade.
The trial is expected to wrap up within ten days. According to the Criminal Code, anyone convicted of receiving bribes can receive the death penalty, while those convicted of abusing power can be sentenced to a maximum of 15 years in prison.
Related link: