On the Eve of the Lunar New Year, Fireworks displays lasting 15 minutes will take place at four locations around HCMC including the Ho Chi Minh Museum (Nha Rong Harbor) in District 4, the Saigon Hi-Tech Park (SHTP) in District 9, the Tan Binh Industrial Zone in Tan Phu District and the Ben Duoc Monument to War Martyrs in Cu Chi District, according to the People's Committee.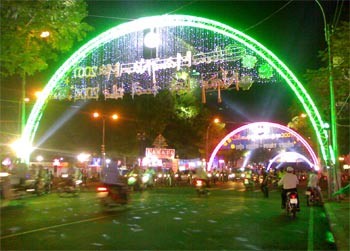 Fireworks will light up the Ho Chi Minh City on the lunar New Year.  (Photo:KK)
The announcement was made at a meeting held to review the status of events planned for the Tet holidays. The meeting was attended by the Standing Committees of the People's Council, People's Committee, the HCMC Committee of the Viet Nam Fatherland Front and representatives of the city's organizations and unions yesterday.

Funding for the fireworks displays will be provided by the private sector. Saigontourist, a leading tourism operator who will be organizing two of the most anticipated attractions over the holidays – the flowers on Nguyen Hue Street and an outdoor festival featuring a record-breaking pair of giant banh tet (cylindrical glutinous rice cakes), will take responsibility for raising the donations.

The People's Committee is proud of national efforts to improve the lives of poor people throughout the country. Over the holidays, the city will spend VND57.6 billion on gifts for veterans of the war, martyr's families and poor people, an increase of more than VND12 billion over the previous year.
City authorities will also provide more than VND1.5 billion for cultural activities including musical performances and film screenings in the city's adjacent districts, schools and rehabilitation centers, People's Committee Chairman Le Hoang Quan said.

To carry out the government's guidelines on an economical and safe New Year, the city authorities had previously decided not to let off fireworks on the lunar New Year 2007. Instead, the city would use the amount of VND1.5 billion planned for fireworks to help poor people and victims of the recent typhoon in the city's distant and remote areas.

Anyhow, according to the public opinions, which affirm the government's right guidelines in looking after poor people and victims of the typhoon as well as letting off fireworks on the occasion of the lunar New Year to bring happiness and prosperity to the people and enhance their spiritual life, the city authorities has decided to use the amount of money planned for fireworks to help poor people and victims of the recent typhoon, but at the same time will still set off fireworks with fund raised from the private sector.
Related articles:
Lunar New Year's Eve Fireworks Displays to Embellish Ha Noi
No Fireworks on Lunar New Year in Ho Chi Minh City