Ten outstanding young individuals in Asia were honored with the ASEAN Youth Award, within the framework of the 19th ASEAN Youth Day which was organized by the National Committee on Youth of Vietnam in Hanoi on November 12.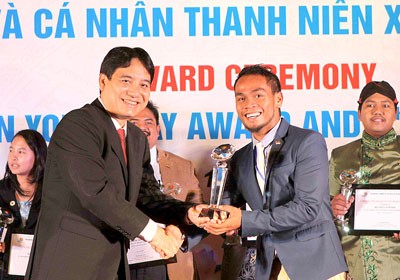 Ten outstanding youth in Asia are honored with the ASEAN Youth Award (Photo:SGGP)
Nguyen Thanh Phuong, a representative of Youth Newspaper and General Director of Kangaroo and ten of Vietnam's youth leaders were honored with this award.
ASEAN Youth Award is an award aimed to honor excellent individuals who are credited with many achievements and contributions to the ASEAN community.
On this occasion, ASEAN TAYO Awards were also given, which aim to honor youth organizations in ASEAN, which have contributed to meaningful programs, activities in the field of environmental protection, vocational education, employment and health.
ASEAN Youth Day is an opportunity for outstanding young people and youth organizations to share information, experiences and initiatives to improve understanding and cooperation between youth and the youth organizations in the Asian Region.