Federal President of the Swiss Confederation Doris Leuthard welcomed President Nguyen Minh Triet's first visit to her country at a time when the two countries' ties are growing well and the 40 th anniversary of diplomatic ties is approaching.
The Swiss Federal President made the remarks during her talks with President Triet, which was held after an official welcome ceremony at Castle Landsitz Lohn in Bern on May 18 local time.
Federal President Leuthard lauded Vietnam's renewal and international integration achievements and the Government's endeavours to deal with economic crisis to turn the country into a power in the future.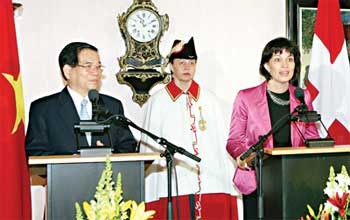 Visiting President Nguyen Minh Triet (L) and Federal President of the Swiss Confederation Doris Leuthard at a press conference after their talk on May 18 (Photo: SGGP)
She welcomed and highly commended Vietnam's decision to establish a study group on the feasibility of a free trade agreement (FTA) between Vietnam and the Europe Free Trade Agreement (EFTA), which groups Switzerland, Norway, Liechstenstein and Iceland, to support the launch of FTA negotiations to further enhance economy and trade between Vietnam and Switzerland in particular and between Vietnam and EFTA in general.
On behalf of the Vietnamese State and people, President Triet expressed thanks to the Swiss Government and people for their valuable support and assistance during the past struggle for national independence and reunification and the current national construction and development.
The two presidents agreed that the friendship and multi-faceted cooperation between the two countries are growing strongly in the fields of politics- diplomacy, trade-investment, development cooperation, education-training and humanity.
They agreed to continue to maintain the exchange of high-level visits so that to further promote mutual trust and understanding, making it a foundation for the development of bilateral ties in other domains.
They also agreed to jointly organise practical activities to celebrate the two countries' 40 th anniversary of diplomatic ties in 2011.
Both presidents welcomed and praised the dynamic growth of economic, trade and investment relations between their countries, saying this helped make Switzerland the top European economic partner of Vietnam .
In 2009, Switzerland 's trade with Vietnam reached US$2.6 billion, ranking second in Europe and its investment in Vietnam hit $1.43 billion, making it the fourth largest European investor.
However, the two presidents shared the view that the trade and investment cooperation remain incommensurate with the two countries' political ties and their potentials.
They agreed to create more conditions to facilitate their businesspeople' s investment, partnership, and penetration into each other's market.
Swiss businesses will be provided with favourable conditions to invest in long-term operation in Vietnam, President Triet said.
He thanked the Swiss Government and people for providing Vietnam with valuable and effective ODA in the past time as well as for their commitments to maintain ODA provision for Vietnam in the coming time.
The Swiss President said her country will continue providing ODA for Vietnam, concentrating on the fields of economic cooperation and partnership, poverty reduction and environmental cooperation, and will boost cooperation in developing private-public partnerships.
Both presidents welcomed and spoke highly of the signing of a memorandum of understanding on education and training cooperation, noting that it lays an important legal foundation for both sides to step up cooperation in the field, especially that between leading universities and research institutes, to create favourable conditions for Vietnamese students to study in Switzerland.
During the talks, President Triet expressed thanks to the Federal President and the Government and people of the Swiss Confederation for their attentions and creation of conditions for the Vietnamese community in the European country.
Both sides affirmed to continue support for each other at multilateral forums and international organisations.
President Triet said Vietnam welcomes the accreditation of a Swiss ambassador to ASEAN and supports the Switzerland's strengthening of relations with the regional bloc. He expressed the belief that Switzerland will successfully organise the summit of French-speaking nations slated for October this year.
President Doris Leuthard praised Vietnam's status on the international arena, especially Vietnam's accession to the World Trade Organisation as well as its contribution as a non-permanent member of the United Nations Security Council during the past 2008-2009 term and as chair of the ASEAN this year.
The two leaders also discussed international and regional issues of mutual concern.
President Triet took the occasion to invite his Swiss counterpart to visit Vietnam.

After the talks, President Triet and President Doris Leuthard issued a joint statement and witnessed the signing ceremony of a government agreement that allows relatives of staff of representative agencies of both sides to hold income jobs in each country and a memorandum of understanding on education and training cooperation.
Speaking at a press conference after the talks, President Doris Leuthard said President Triet's visit is a historic landmark in the history of the two countries' relations.
Vietnam is an important, friendly and reliable partner of Switzerland and one of the Southeast Asian countries that receive Switzerland's biggest priority.
Federal President Leuthard said she believes the visit will create impetus to lift the bilateral relations to a new high, offering an opportunity for the Swiss and European people to have a better understanding of Vietnam – a nation of great economic potential and fantastic tourist attractions.
President Triet underlined that Switzerland was a friend of Vietnam from the war time and now, during the phase of national construction and development, its continued provisions of official development assistance have helped the country reap socio-economic achievements.
Vietnam wishes to further boost trade and investment cooperation with Switzerland, he said, adding that Switzerland is a powerful nation in many areas, especially finance and banking.
Two-way trade between Vietnam and Switzerland leaped to $2.6 billion after the Swiss President's visit to Vietnam in 2008.
On the afternoon the same day, President Doris Leuthard hosted an official banquet to welcome President Triet and the Vietnamese delegation.