The trend of green consumption promoted at a Ho Chi Minh City major retailer has gained results but it needs better support from multiple forces to really change the public's shopping habit, a retailer leader said.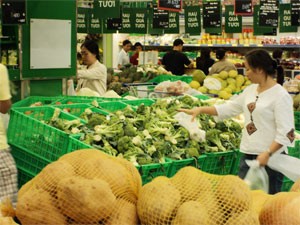 People buy vegetables at a Saigon Co.op supermarket in HCMC, which is being promoted in a green shopping campaign (Phoro: Minh Tri)
The green consumption campaign, initiated by Saigon Co.op supermarket chain, Ho Chi Minh City People's Committee, the city Department of Industry and Trade and the Saigon Giai Phong newspaper in 2010, has attracted a large number of participants.
It promotes products from businesses that have committed to protecting the environment, including Co.opMart, P&G, Unilever, Vinamilk, Colgate, Palmolive, Colusa, Miliket and FrieslandCampina. Their products would be labeled "green."
Many programs have been carried out in this year one-month campaign that ended July 3, including discounts on fresh foods and 300,000 free consumption tickets worth VND10,000 each every day.
The campaign was joined by more than 7,000 volunteers, raising the sales of green products at the supermarket by more than 50 percent from days outside the campaign, the supermarket said.
Nguyen Thanh Nhan, deputy general director of Saigon Co.op supermarket, told Saigon Giai Phong during a recent interview that "[the sale increase] proves that the environment protection awareness has been aroused from the public."
Nhan said the campaign encourages people to choose products that is better for their health and the environment.
The campaign has been successful with the support of the city government, media agencies and the volunteers, he said.
"But the key factor making the success is the support of the consumers.
"Through the campaign, the residents have performed their right: using green products," Nhan said.
Yet he said the government, media agencies, businesses and distributors should cooperate more to make using green products a daily habit of people.
Nhan recommended the establishment of some "green ambassadors" to better develop the campaign in various forms.
According to the Saigon Co.op representative, the green consumption tendency requires businesses to invest in sustainable development, and be responsible of protecting the environment.
"If they turn their back to the community, they will get the consequences," Nhan said.
He said the supermarket will continue to help the green consumption campaign have more and better impacts on people's shopping habit, making them think more of the environment.
The supermarket will create more opportunities for green businesses to develop, including promoting their images, offering discounts on their products and giving more space for them.