HA NOI (VNS) — President Truong Tan Sang yesterday asked relevant agencies and the capital administration to facilitate the completion of the Ha Noi Support Industry Park (HANSSIP).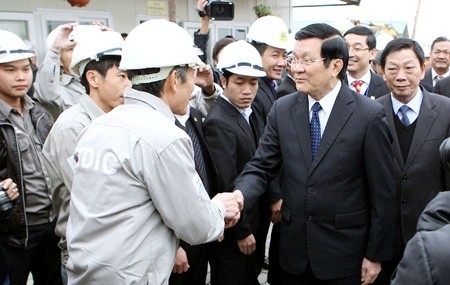 President Truong Tan Sang meets engineers and workers at the Ha Noi Support Industry Park in Phu Xuyen District yesterday. — VNA/VNS Photo Nguyen Khang
He made the statement while visiting the park, which is located in the capital's Phu Xuyen District, and will be the first large-scale support industry park of Viet Nam once completed.
Representatives from enterprises attending the meeting expressed their hope that relevant state agencies would create favourable conditions for them in terms of capital, interest rate, tax policies to facilitate the operation of the park.
The president affirmed that the establishment of support industry parks is one of the State and Party's priorities, which will help enhance the development of the production industry and contribute to the country's modernisation and industrialisation cause.
He also said that starting support industry zones at this time were already late compared to other countries in the region, given the soon-to-be-implemented agreements in Viet Nam.
Thus, he called on relevant agencies and local administration to pave the way for enterprises and for the park to become operational soon. Support policies, especially those regarding tax issue, should be issued to attract investment from foreign and domestic enterprises.
The Ha Noi Southern Support Industry Park is designated for plants to produce auxilary products for the manufacturing engineering, garment and textile, footwear, electronics and informatics, auto production and assembly sectors.
The park will also include trade centres, banks and schools and provide logistical and healthcare services.
Once operational, HANSSIP is expected to attract some 200 investors, creating around 30,000 jobs.