Vietnam's Prime Minister has asked the Ministry of Agriculture and Rural Development, and Ministry of Industry and Trade to explain the skyrocketing food prices in which pork prices shot up by 70 percent due to supply shortage in the last four months.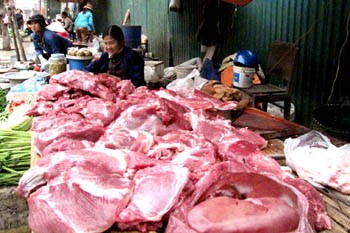 Pork prices shoot up due to supply shortage (Photo: SGGP)
This resulted in the Livestock Breeding Department to hold an emergency meeting yesterday to discuss ways to reduce pork prices.
At the meeting, Le Van Me, director of the Phu Son breeding company said that his farm had 39,000 pigs this year, less than last year because of high production costs.
Bank interest rate for pig breeders is 25-26 percent and the input costs have stiffened by 50-60 percent. Other costs such as electricity, water and labor have also increased.
Meanwhile, diseases have continually plagued pig farmers inhibiting any expansion plans for pig breeding.
Most businesses and farm owners say there is no sign of pork prices falling by August as now they have to pay up to VND2 million to  breed a pig per month.
In addition, the feed prices have not stabilized and supplies are unsteady with more dependency on imports. All this will not allow pork prices to slide down.
According to some breeders, diseases should be contained and feed prices should be stabilized to bring costs down.