The Trooc Spring in Bo Trach District, Quang Binh Province experienced a dangerous influx of people searching for valuable sua timbers on February 25.
The district's People's Committee mobilized police, military and forest rangers to the scene after thousands of people, including gangsters and sua timber barons, trampled farm fields to reach the site.
Nguyen Quang Huy discovered the tree in a spring while he was fishing. Hundreds of people flocked to the area destroying peanut fields after hearing about the discovery.
The massive tree broke the pulley used to bring it ashore. Citizens were able to claim a 30-kilogram section. It was stolen the next morning after an altercation about ownership.
Witnesses claim that the tree was three meters tall with a diameter of more than 1.5 meters. The value is about VND 10 billion (US$475,000) in the black market.
Witnesses also claim that the barons paid workers to seize the timber.
District authorities will hire workers to remove sua timbers from the spring to prevent additional disputes, said Phan Van Gon, chairman of the district's People's Committee. He agreed to grant Huy and his friends 30 percent of the wood's value after auction.
The excavator failed to pull the tree to land. Police and forest rangers will be protecting the area overnight.
Photos at the scene:
Nguyen Quang Huy (middle) and group of friends are discoverer of the sua tree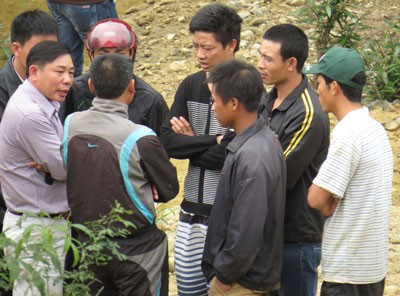 Sua timber baron (left) negotiating to buy the tree
Military and police forces hold spectators back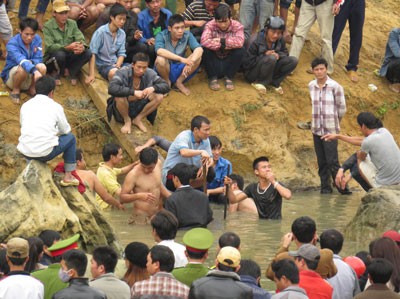 Some men trying to take sua timbers