According to the latest count by the Central Steering Committee for Flood and Storm Prevention and Control so far, 47 people are either dead or missing and about 100,000 houses have collapsed in the recent storms and floods in Central Vietnam.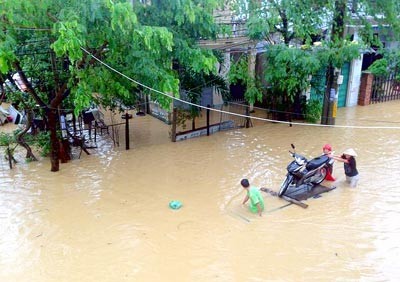 (Photo:SGGP)
Since the beginning of this year, Vietnam has faced 15 storms and four tropical low pressure systems. So far, 264 people have been reported either dead or missing, 800 have been injured, 12,000 houses have collapsed, and more than 300,000 hectares of rice crops have been damaged. Total storm damage is now being estimated at VND25,000 billion.
In 2012, Vietnam suffered only 10 storms and two tropical low pressure systems, which caused the death of 258 people and injured 408 others. Total storm damage was estimated at VND16,000 billion.
The National Hydro Meteorological Forecasting Center announced that temperatures in Hanoi and the northern provinces have reduced rapidly to 18-19 degrees, while some places even as low as 13-15 degrees. Temperatures in Sapa have fallen to 8-9 degrees.