A seminar on "efficiency of the Government's stimulus packages" was held July 23 in Hanoi to review the initial results of stimulus packages.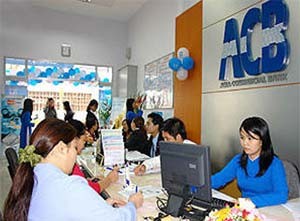 Customers at a branch of the Asia Commercial Bank. At a seminar on July 23, experts said the Government's subsidized loan policy benefits both businesses and banks. (Photo: Du Lich)

Organized by the Vietnam Association of Corporate Directors (VACD), the seminar was attended by more than 100 corporate directors, domestic and international experts, and representative of State management agencies.
To cope with the global economic crisis, the Government's launch of two stimulus packages, the first worth US$1 billion and the second $8 billion, is necessary to prevent economic recession, give support to businesses and ensure social security, the seminar agreed.
The first package, covering loan interest subsidies, has benefited both businesses and banks. As of July 16, total balance of subsidized loans amounted to nearly VND377.7 trillion ($21.6 billion).

Regarding the $8 billion second package, which includes tax reductions and exemption, providing capital for projects that can be completed in 2009 or 2010, issuing additional Government bonds, and maintaining social security, the seminar recommended that it be used prudently and be well controlled.

VACD's experts, and their international counterparts, reviewed Vietnam's social and economic situation in the first half of 2009 and gave forecasts about its prospects in the rest of the year.

They also discussed advantages and difficulties for banks and businesses in carrying out the Government's subsidized loan policy.

They also warned about related risks and provided the Government and businesses with recommendations on management.

Getting the country's economy out of current difficulties and preparing for a recovery in the future depends on the State's policies and efforts of businesses, the seminar agreed.