President Nguyen Minh Triet on the afternoon of May 19 (local time) left Switzerland, beginning his first time official visit to Finland from May 19-22 at the invitation of President Tarja Halonen.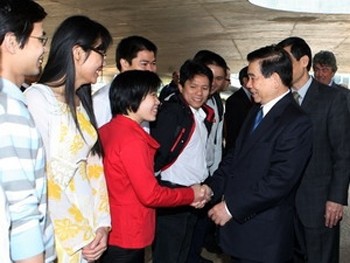 President Nguyen Minh Triet  (1st, R) meets with Vietnamese students at Lausanne University during his visit to Switzerland May 19 (Photo: VNA)
The Vietnamese leader is accompanied by Deputy Prime Minister and Foreign Minister Pham Gia Khiem, Minister of Labour, War Invalids and Social Affairs Nguyen Thi Kim Ngan and other senior officials.
The Vietnam-Finland economic, trade and investment cooperation has seen positive developments. Two-way trade reached almost 230 million USD and direct Finnish investment in Vietnam was more than 60 million USD in 2009.
On education-training cooperation, around 500 Vietnamese students are studying in Finland. In November 2006, the Finnish Foreign Ministry selected Vietnam as the sole Asian nation to benefit from the second phase of its North-South-South education exchange programme.
Labour cooperation is also a field with potential for development in the Vietnam-Finland relationship. In 2008, Vietnam was the first and only country outside Europe to send guest workers to Finland under a pilot cooperation model called "immigration labour".
Finland committed 49.58 million USD in ODA to Vietnam for the year 2010, bringing the total to 400 million USD.
Before concluding the four-day visit to Switzerland, on the afternoon of May 19, President Triet visited members of the Vietnamese delegation to the United Nations, the World Trade Organization and other international organizations in Geneva.