State President Nguyen Minh Triet on Thursday joined 150 disadvantaged children in Ho Chi Minh City to celebrate the Mid-Autumn Festival, a traditional festival for children in Viet Nam.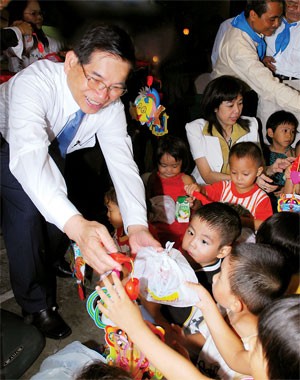 President Nguyen Minh Triet presents gifts to needy children

The festival, which is celebrated in the middle of the eighth month according to the lunar calendar, falls on September 25 this year.

The Party and State are very concerned about the welfare of teenagers and children across the country, President Triet said, adding that agencies and organizations both at home and abroad have worked diligently to improve the lives of underprivileged children.

The President took the occasion to express his thanks to the multitude of charitable and non-governmental organizations both inside and outside the country, which have provided support for Viet Nam in general and its children in particular.

Also on this occasion, a similar festival was held for more than 100 Agent Orange/Dioxin child victims from the Hoa Binh (Ha Noi) and Huu Nghi (Ha Tay) Villages.

The festival was also attended by former Vice State President Nguyen Thi Binh, Honorary President of the Viet Nam Association of Victims of Agent Orange/Dioxin (VAVA), former Vice State President Truong My Hoa and President of the Viet Nam Fatherland Front Central Committee Pham The Duyet.

Organizers presented gifts to 120 children who attended the festival. Also Duyet and leaders of Cong An Nhan Dan (People's Public Security) and An Ninh The Gioi (World Security) newspapers handed over VND17 million in total to Ha Noi's association of AO/dioxin victims.

In the lead up to the festival, the Viet Nam Fund for Children raised VND380 million to buy gifts for some 4,000 disadvantaged children in 23 provinces and cities nationwide.

Provincial funds have provided disabled and underprivileged children with free operations, wheelchairs and scholarships.