State President Nguyen Minh Triet presented the State honour "People's Armed Forces Hero" to the Ba To guerrilla unit, a founder of the revolutionary armed forces and also the Vietnam People's Army.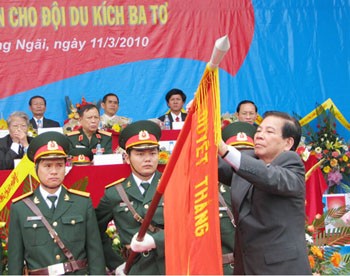 President Nguyen Minh Triet pins the "People's Armed Forces Hero" badge to the Ba To guerrilla unit's flag
The State leader also distinguished Ba To district in the central province of Quang Ngai with the Labour Order, first class--a high honour by the State and Party--at a ceremony to mark the 65 th anniversary of Ba To uprising on March 11.
Former State President Tran Duc Luong, who hailed from the province, also attended the celebration.
Triet recalled the Ba To uprising this day 65 years ago as a major contribution to the nation's victorious August Revolution in 1945, which led to the nation's independence on September 2 the same year.
"The success of the Ba To uprising gave birth to the first revolutionary regime in Quang Ngai. The Ba To guerrillas played a key role in forming the revolutionary armed forces in the central region and the Vietnam People's Army, too," he emphasised.
The State leader called upon authorities and people in the mountainous district of Ba To to uphold their heroic tradition during the current period of economic development, thus improving people's living conditions.
Later in the day, the State President attended a groundbreaking ceremony for the new Ba To Uprising monument at March 11 Square.
The monument was designed to stand 11 metres high, including its 7 m-high base, on an area of over 11,500 sq. m. at a cost of over 12 billion VND.
The project, made of granite, is scheduled to be finished by February 2011.