Overseas Labor Management Department in Vietnam said November 3, that the Ministry of Labor in South Korea has agreed to restart the Korean language exam for Vietnamese laborers seeking employment in Korea.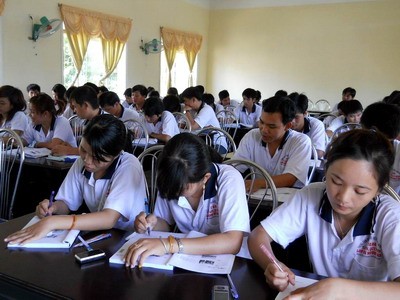 File photo shows that laborers are learning Korean at an employment agency to prepare for the examination.
The Overseas Labor Management Department under the Ministry of Labor, Invalids and Social Affairs announced that the exam is expected to be held on December 17-18 in five locations of Hanoi, Nam Dinh Province, Vinh City of Nghe An Province, Da Nang and Ho Chi Minh City.
The Human Resource Development Service of South Korea will be organizing the exam in Vietnam.
South Korea plans to recruit 15,000 temporary Vietnamese workers this year.
To date, Vietnam has sent a total of 63,271 laborers to work in South Korea under the Employment Permit System (EPS) program.

Under the EPS program, foreign workers are allowed to switch jobs three times within a three-year period. The workers are also paid basic salary remunerations as per South Korean law. They are also protected with insurance policies and repatriation expense insurances. At the end of their contract they can be re-employed by other Korean businesses.

Workers must thus pass a Korean language exam and meet specific criteria, to be able to work in South Korea. Eligible candidates for the EPS program are those just finished military service, students from vocational secondary schools and manual workers.