Dr. Tran Chung, former head of the Department for Construction Quality Control under the Ministry of Construction, believes that the Song Tranh 2 Hydropower Plant should be closely monitored before any specific data or conclusions about its safety are reached.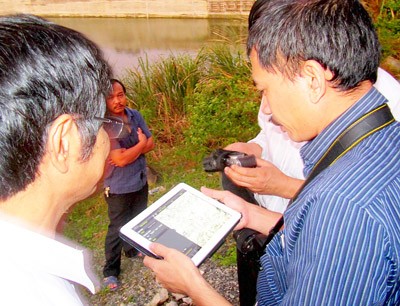 Scientists survey the Song Tranh 2 Hydropower Plant area (Photo: SGGP)
Although the State Council has affirmed that the dam at Song Tranh 2 Hydropower Plant is safe from earthquakes upto 5.5 on the Richter scale, the public remains anxious because of recurring and frequent earthquakes in Bac Tra My District in the central province of Quang Nam, where the plant is located.
Saigon Giai Phong Newspaper interviewed Dr. Tran Chung on this issue, and according to him, frequent earthquakes in the Song Tranh 2 Hydropower Plant area were induced by water accumulation at the plant reservoir.
In 1983, when the Hoa Binh Hydropower Plant was put into operation in the northwestern area, there were similar strong quakes which even jolted Hanoi. However, the quakes and aftershocks soon abated.
 
The geology of the area always has a huge impact on such large construction projects. The impact is more worrisome in areas with complex geological conditions.
As a result, related organs should reexamine and study the conditions at Song Tranh 2 Hydropower Plant. They should also closely monitor data collected from observation devices installed at the bed of the dam, aimed to determine its stability and monitor changes in the water accumulation process.
The collected data must be seriously studied and calculated by a group of scientists before any conclusion on the safety of the dam is reached.
The Institution of Global Physics has installed quake observation devices in the Song Tranh 2 Plant area. Data obtained from them plays a very important role in determining the capacity of the plant to withstand impact of natural disasters.
With experience of several years of working in the construction field and assessing quality of many large works in the country, Dr. Chung knows designs of works like Song Tranh 2 and their capacity to withstand stress.
Design engineers always take into account the frequency and intensity of the heaviest rainfall and floods in areas, that might reoccur each few hundred years, he added.
As a result, if the construction is built according to a specific design, it will ensure safety. The fact is that scientists need specific data to determine if the dam has been designed and built as per specifications.
Operations of the dam should be closely monitored to have specific and continuously updated data so that scientists can assess and reach a conclusion.