Deputy Prime Minister Hoang Trung Hai has requested that the Song Tranh 2 Hydro Power Plant, which was hit by an earthquake earlier this week, should not put its water reservoirs at this time despite assurances from professionals that it would be safe to do so.
Five tremors were reported to have hit the plant on Monday and Tuesday, causing panic among the local people and raising concern from experts.
Vice PM Hai's decision not to accumulate water in the reservoirs came after his meeting in Ha Noi yesterday (Sep 21) at the offices of the Government. During the meeting, the Vice PM met with representatives of the Ministry of Industry and Trade, Vietnam Electricity Group (EVN), Hydropower Project Management Board number 3, Institute of Geophysics, Institute of Geology, Institute of Science and technology of Vietnam, Quang Nam People's Committee and leading scientists, specialists, experts and local authorities and other management agencies to review and assess the problem of Hydropower Song Tranh 2.
Although experts' opinion recommends the dam is within the safety and can accumulate water immediately, Deputy Prime Minister directed not to let water flow into the reservoirs of Song Tranh Hydropower 2 so that the experts have more time to study the measurement of the climate change, geological changes and complex affect of earthquakes in the Song Tranh 2 Hydropower area.
He said the final decision had been based on the unpredictability of the weather and geology should earthquakes strike again in the Bac Tra My District of the central province of Quang Nam, where the plant is located.
"This is the first ever case where a plant in the construction sector is facing a risk of natural disaster, so we need to consider the problem very carefully," the Deputy PM stressed.
"Everything must be done to ensure the safety of the people and the plant," he added.
Mr. Hai also urged relevant scientific agencies, ministries and sectors to hire foreign organisations and individuals to continue checking and evaluating the impact of the earthquakes on the plant, especially now that the flood season is ongoing.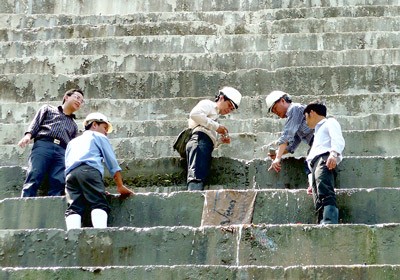 Experts examine the repair work and plug all leaks at the Song Tranh 2 Hydropower Plant reservoir dam in the central province of Quang Nam
He said that a final decision on the re-operation of the water reservoirs would only be made when an official and comprehensive evaluation was completed.
An inspection group headed by the district's Steering Committee for Storm and Flood Prevention and Control was established immediately after the recent tremors in order to check on any damage to the plant.
Inspection work so far has confirmed that the plant was built correctly to the design and is safe from earthquakes that measured up to 5.5 on the Richter scale.