The Criminal Investigation Police under the Ministry of Public Security has disclosed that the Sonadezi Company in Long Thanh Industrial Zone of Dong Nai Province is spewing untreated wastewater into the Dong Nai River, far beyond permissible levels.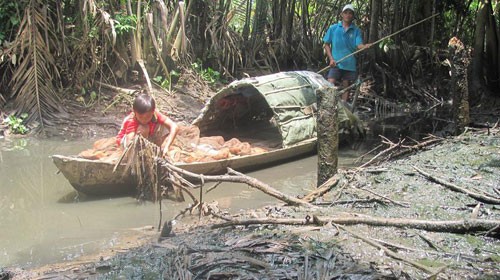 Ba Cheo Canal being polluted from untreated wastewater spewing from the Sonadezi Company in Dong Nai Province (Photo: Tuoi Tre)
Earlier this month, it was discovered that the company had been dumping untreated wastewater into the Dong Nai River for the last many years.
The police tested wastewater samples from the company at the Institute of Natural Resources and Environment in the Ho Chi Minh City National University yesterday.
According to the police, the process method for releasing wastewater adopted by the Sonadezi Company also did not meet the required standards.
 
The number of households claiming damage compensation from the Sonadezi Company had increased to 140 by yesterday.
Nguyen Duc, chairman of the Dong Nai Province Lawyers' Association said that the affected households can begin proceedings against Sonadezi at the People's Court in Long Thanh District, if they can produce evidence of damage incurred.
They can also petition Dong Nai Newspapers and the lawyers association for free assistance in suing the Sonadezi Company, added Duc.
Related articles:
Sonadezi Company expenses investigated
Authorities lax, while Sonadezi pollutes
Sonadezi Company fleecing other enterprises
Untreated wastewater polluting farmland
Company caught polluting Dong Nai River