The Ministry of Labour, Invalids and Social Affairs (MOLISA) is drafting a decree to create a State subsidy for people joining the voluntary social insurance programme.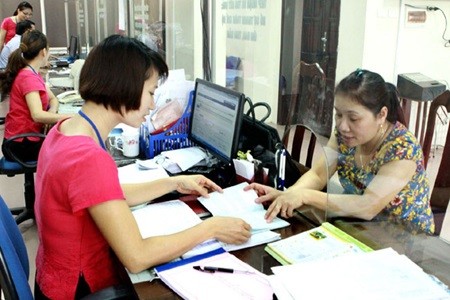 A resident completes procedures for social insurance at the Thai Nguyen Social Insurance Agency. People who pay voluntary social insurance will receive subsidies. — VNA/VNS Photo Duong Ngoc
This means paying social insurance premiums not through the employer, but on one's own initiative.
The draft decree offers two options. The first is for the State to subsidise participants for 50 per cent of their premiums for the first five years and 30 per cent for the next five years.
The second option is for the State to subsidise participants in rural areas only. The subsidy would be given throughout the period of premiums payment, on a monthly basis.
It would be equivalent to 30 per cent of the lowest level of premium the insured could pay.
Talking to Tin Tuc (News) newspaper, Pham Minh Huan, deputy minister of Labour, Invalids and Social Affairs, said the draft decree was open to input from other ministries, local government and the general public.
It is expected that the draft will be submitted to Government next month after being reinforced by these inputs.
Still unaware
Bui Van Hoang from Hoa Binh Province is a worker at a small plastics making mill in Ha Noi's Cau Giay District. He earns a daily wage averaging VND200,000 ($9) per day. He pays no insurance of any type.
He said: "Once, representatives of the to dan pho (a group of households under the lowest level of local government of rural areas, phuong (urban commune) or thi tran (commune-level town) but not an administrative unit), came and worked with at the mill.
"They urged us to participate in the social insurance programme. However, as we were unsure how much pension we would get, we haven't decided yet."
Le Thi Nhung from Hung Yen Province is a self-employed labourer. She wants to be on the safe side before joining a social insurance programme, questioning what benefit she would get from social insurance when she retires.
"From newspapers, I've heard of a teacher who worked for 19 years. She not only paid compulsory social-insurance premiums all that time, she also paid premiums on voluntary social insurance for one year.
"That person ended up with a monthly pension of just VND300,000 ($13), which is not enough to buy breakfast daily.
"How can we trust the social-insurance programme after considering this?"
Do the talking
Chu Phuong Mai is director of social insurance in Cau Giay District in Ha Noi.
She told Tin Tuc that to encourage labourers to join the social-insurance programme, her agency had worked with different phuong and to dan pho to list all potential labourers that could join the programme in the area.
The agency aimed to approach and talk them into joining the social-insurance programme. But it is easier said than done.
Each year, more than 1,000 companies set up in the district as another 500 close down.
To complicate matters, many of the companies register their addresses at one place but run their office or factory de facto at another, making it difficult for Mai's staff to find them.
Aiming high
MOLISA expects the country's workforce will reach 60 million by 2020.It sets the goal of engaging half of this figure or 30 million in the social-insurance programme - most of them in the voluntary programme.
The aim seems high. Participants in voluntary insurance now number a mere 196,254 eight years after it was introduced. This represents only 0.35 per cent of the workforce.
Nguyen Duy Cuong, deputy director of the MOLISA's Department of Social Insurance, said that the Revised Social Insurance Law 2014 was meant to encourage participation in the voluntary programme.
It accepts those on the lowest levels of income. In other words, a poor man with a tiny income can also participate in the social-insurance programme). And it has eased the rules by not capping the age of those wanting to join.
It has also diversified forms of premiums payment to enable the insured to pay premiums for several years at a time or pay for several "missing" years to enjoy a pension when they reach the retirement age.
Dr. Pham Do Nhat Tan, former director of the MOLISA's Department of Social Insurance, said having policy in place was not enough.
"To expand the base of voluntary social insurance programme participants, the Government needs to provide (financial) support as soon as possible".