Vietnam Social Insurance Agency intends tougher action in dealing with companies defaulting on social insurance debts, Le Bach Hong, general director of the agency said in Hanoi Tuesday.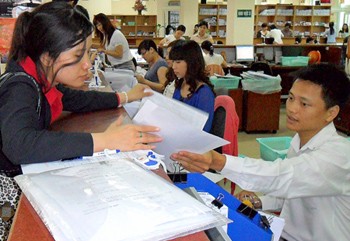 Businesses paying social insurance at a Ho Chi Minh City agency (Photo: SGGP)
Mr. Hong was speaking at a seminar hosted by the Ministry of Labor, War Invalids and Social Affairs to review five years of implementation of the social insurance law.
Social insurance debts have increased to VND4.6 trillion (US$219 million) as noted in the month of August 2011 and expected to surge to VND6 trillion this year, double that compared to last year.
According to Mr. Hong, it is very difficult to collect social insurance debts due to lack of tougher sanctions against businesses that dilly- dally with payments. Even the maximum penalty of a mere VND30 million (US$1,428) is far too low to pressurize businesses to pay up in time.
Social insurance debts have to be recovered mainly from medium and private businesses. Foreign enterprises are also listed but their numbers are fewer than private domestic companies. These are usually seen pleading against paying debts, justifying production and trade difficulties.
Meantime, if social insurance agencies uncover a violation case, they feel inadequate and incapable of exerting pressure to recover payments as they have no legal rights. Businesses not paying up social insurance are now required to pay an extremely low interest rate compared to normal bank rates.
Tran Thi Thuy Nga, head of the Social Insurance Department under the Ministry of Labor, War Invalids and Social Affairs said that businesses will have to pay an interest rate of 10.5 percent of the debt. This rate accounts for only 50 percent of the bank loan interest rate and should be increased, she said.
Mr. Hong said that he would propose to double the interest rate of social insurance debts over bank interest rates.
In addition, Vietnam Social Insurance Agency has proposed to consider non payment of dues by businesses as a criminal offence and charge defaulters of social insurance accordingly.
The agency is also considering entitling social insurance agencies with legal rights to penalize late payment defaulters or at least be able to report to provincial people's committees for immediate punishment.