Amid fears of a new strain of avian flu virus discovered recently in China, any kind of smuggled chickens being transported into Vietnam are now being seen as a threat to the domestic livestock.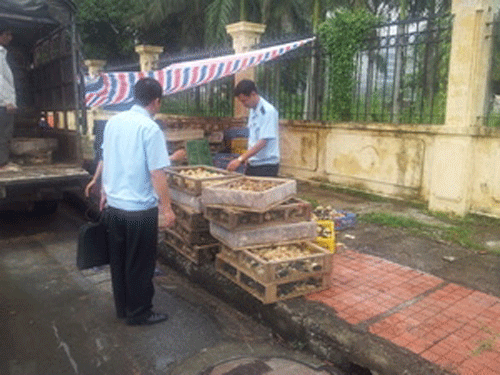 Officials seize illegal chickens at a check point in Quang Ninh Province
Do Duc Huu, head of Customs Control No.2 in the northern province of Quang Ninh, said he and his colleagues have had four sleepless nights watching for illegal entry of chickens from China.
For instance, on September 20 they discovered four cases of illegal transportation of chickens trying to enter the country, and successfully confiscated 59,000 chickens.
All the drivers transporting the birds failed to show a quarantine certificate or any other valid documents for their consignment of chickens.
For years, the illegal transport of chickens has been rampant and unchecked in the frontier mountainous province of Lang Son, but now with strict monitoring in this area, smugglers have moved entry through Mong Cai in the northern province of Quang Ninh.
The public is now worried about the new highly pathogenic strain of H5N1 virus which kills most species of birds and upto 60 percent of people have been so far infected.
The new strain, 2.3.2.1 C, which was discovered in China two months ago, has recently spread to Vietnam and is now present in some areas in seven provinces and cities, namely Hai Phong, Ha Tinh, Ninh Binh, Nam Dinh, Bac Kan, Thanh Hoa and Quang Ngai, according to an official from the Department of Animal Health. Most of these provinces are involved in smuggling poultry from China thereby increasing threat of infection to all domestic poultry.
Moreover, though purchasing power has reduced dramatically due to the economic downturn, unsafe poultry still has its own niche market.
Vuong Trong Dung, head of Dan Tien Control Station in Mong Cai Town said a Chinese chicken weighing 1.5 kilogram sells for VND100,000 (US$4.8), while its Vietnamese counterpart fetches from VND180,000 ($8.7) up to VND200,000 ($9.6). Similarly, baby bred chickens sell for VND8,000 while traders purchase them for VND4,000 in China.
Dung added that in August and part of September, controllers discovered 11 illicit transportations of chickens being brought into the country from China, and were able to seize 1.3 tons of poultry and 69,000 bred chickens. As a result, unsafe poultry sells in masses in markets in the northern and central provinces.
Nguyen Thanh Son, deputy head of the Department of Animal Health, said that smuggling of poultry into the country will harm the domestic breeding sector and spread bird flu virus, which will then become difficult to contain.