When she was 19, Nguyen Thi Hien would be panting hard after 30 minutes of walking from her village to a main road with 50kg of bamboo on her back.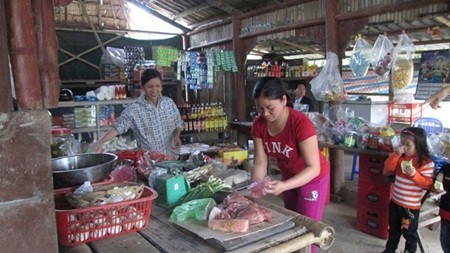 Nguyen Thi Hien (middle) prepares food at her corner shop. Her village shop is the result of a loan from the Micro Finance Unit in 2012. — Photo Courtesy of World Vision
The young Thai girl had no other choice but to get across at least six kilometers of mountain roads each day to sell the bamboo and earn a pittance to help her family of four, not to mention the baby in her belly.
Selling the bamboo at VND1,000 per section, she would earn about VND10,000 (less than 50 US cents) a day.
"But there were many days when I could not sell anything. About half of the month, actually," Hien recalled.
Hien and her husband struggled to make ends meet, earning about VND200,000-300,000 (US$9.5-14.5) a month.
She thought of borrowing some money from the bank to support her family, but she was too poor and had nothing to offer as collateral. Hien could see no end to the poverty that she and her family were stuck in. And she certainly could not imagine herself being recognised as an outstanding entrepreneur in the country.
But the unthinkable and unimaginable has happened. This year, she has been chosen to receive the Citi Microentrepreneuship Award* for Individuals.
Dream start
Hien's life took a different turn when a Micro Finance Unit (MFU) officer showed up one day in 2006 and offered a mortgage-free loan of VND500,000 (US$24).
The MFU functions under the non-government organisation World Vision, offering small loans as well as advice on using them to poor households in order to raise their life standards.
The loans range from VND500,000 (US$24) to a maximum of VND20 million (US$960) based on the repayment capacity of a household.
Hien hesitated. The loan was tempting, but she was worried that she would not be able to repay the original loan and the interest (1 per cent) on the due date.
Badly wanting a better life for her family, she decided to take a risk. She took the loan and bought a pair of pigs on the MFU officer's advised.
Much to her surprise, a year later, Hien was not only able to repay the whole loan, but even had a little savings left over after selling the pigs.
Two years after focusing on expanding her pig herd, Hien noticed a golden business opportunity in her village, Giang.
More than 400 Thai villagers had developed a taste in tofu, but no one knew how to make it. They had to reach the town 8km away to get some.
"I borrowed more money from MFU to buy a tofu-making machine and learnt how to make it," Hien said.
As the only place in the village to sell tasty tofu, she did good business.
In 2012, Hien had become confident enough to borrow VND7 million (US$335) and open the only corner shop in the village.
Step by step, her household income grew, and after 8 years, reached VND72 million (US$3,460) a year on average, or VND6 million (US$288) a month.
Practical help
"The loans given by the MFU are very effective. They have improved the lives of poor households, especially those who do not have the capacity yet to do big businesses," said Pham Dang Luc, Deputy Permanent Secretary of the Lang Chanh District People's Committee.
"We do not have accurate figures on the poverty decline since the MFU began giving loans, but I believe they have done a really good job," he added.
Until now, the unit has loaned money to 1,300 poor households across Lang Chanh District, including many of Hien's neighbours.
Le Thi Hoa, head of the Lang Chanh MFU sub-unit, said once the parents do well, succeeding generations can have a better life.
"If a family can improve their financial situation, they can provide their children with better food, healthcare and education," she said.
Hien agreed
"Not so long ago, we just had plain rice mixed with cassava and some wild bamboo shoots harvested in the forest. Now we can have eggs and meat whenever we want," she said, smiling.
Hien has been able to build a new house for her family, equipped with modern appliances like TV and fridge. Now all she cares about is her two kids.
"I had to quit studying after secondary school. I will try my best to let my children go as far as they want to."