Authorities have recovered a sixth dead body from the landslide debris in which 13 people are reported dead or missing in Nam Luc Commune of Bac Ha District in the northern province of Lao Cai since August 31.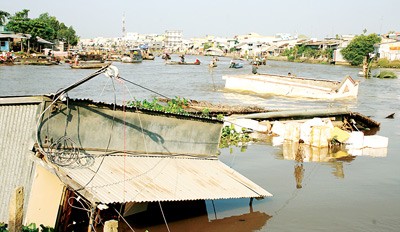 Landslide sinks houses into the river in the Mekong Delta (Photo: SGGP)
The Steering Committee for Search and Rescue in the province is still working through the holiday to search for more victims and complete repair work in the aftermath of the sudden flashflood. More than 600 people are present in the commune at all times for search and rescue works.
The province has mobilized three excavating machines to clear the   debris from the road that connects the People's Committee of Nam Luc Commune to Nam Cham and Nam Du hamlets.
Organizations, businesses and individuals have sent more than VND200 million (US$9,600), one ton of rice, clothes and instance noodles to Nam Luc Commune.
In related news, persistent rainfall over the last several days and high tide have caused more new landslide spots along the sea and river dyke system in the southernmost province of Ca Mau.
Landslides have occurred along the sea dyke and along 30 spots near the river dyke. The worst are along Doi Cuong Canal and Cua Lon River.
Luu Minh Nhat, chairman of the People's Committee of Tran Van Thoi District, where there is more than 30 kilometers of sea dyke, said that landslides have been occurring for many years and only worsen during the rainy and storm season.
The Irrigation and Flood and Storm Prevention Department in Ben Tre Province reported that the province now has a total of 18 river and sea landslide spots, several of which are in urgent need of fortifying to ensure safety for residents living along these areas.
Related article:
Flashflood in Lao Cai Province leaves 13 dead or missing