Six people have been killed in the past two days, of which three were pupils and two were teachers, in recent torrential rains and flooding due to tropical depression that swelled rivers in provinces from Thua Thien-Hue to Phu Yen and the Tay Nguyen Highlands.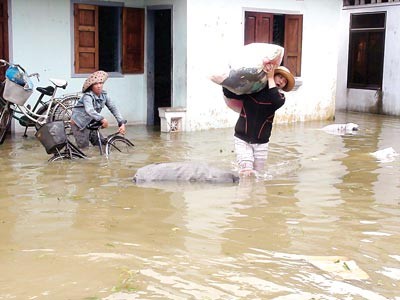 Residents in Quy Nhon City in Binh Dinh Province grab some essential items before moving to higher places for safety. (Photo: SGGP)
Continuous heavy rainfall up to 150-200 millimeters in Quang Ngai Province has caused water levels in rivers to rise rapidly, isolating Hanh Dung and Hanh Tin Tay Communes in Nghia Hanh District. More than 600 pupils in these two communes have had to stay at home.
In Son Tay District, water from the Rin River has flooded roads and schools and more than 3,000 pupils in the district have had to remain absent from schools for safety reasons.
In the mountainous district of Ba To, sudden floods have cut off six households in Mang Den Hamlet of Ba Vi Commune. According to Huynh Thuong, Vice Chairman of the People's Committee of Ba To District, four households have been evacuated to safer places. The two remaining households were unapproachable at this moment due to swift-flowing floodwaters.
Traffic from Quang Ngai to Kon Tum Provinces has been congested due to landslides on a section of Highway 24 which passes through Violac Mountain Pass.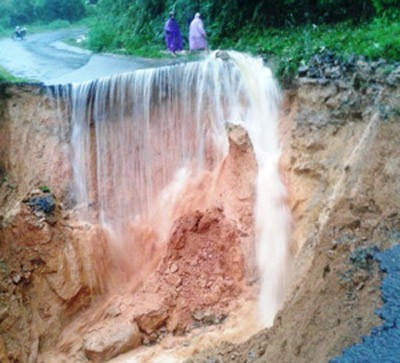 A section of Highway 24 is swept away by flood waters, paralyzing traffic between Quang Ngai and Kon Tum Provinces. (Photo: SGGP)
On Friday evening, Le Van Tuan, Head of the People's Committee of Bac Tra My District in Quang Nam Province, said that local authorities have informed residents in lowland areas to prepare for floods as Song Tranh 2 Hydroelectric Plant has been releasing excess water, after water level in its reservoir reached 165 meters, four meters higher than safe limit. All pupils in Bac Tra My District also had to stay at home since Friday for safety reasons.
Landslides were also reported in five sections of Highway 24 which passes Po E Commune in Kon Plong District in Kon Tum Province. A section of Highway 24 was totally destroyed by floods, isolating Po E Commune. Traffic between Quang Ngai and Kon Tum Provinces was more or less at a standstill.
On Friday night, as An Khe-Ka Nak Hydropower Plant released water at nearly 3,000 cubic meters per second, An Phuoc, Ngo May, and Tay Son Wards in An Khe Town in Gia Lai Province were submerged under water. More than 200 houses in An Khe Town were flooded with hundreds of livestock drowning in deep gushing water.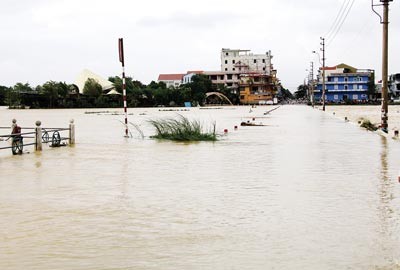 Roads look like rivers in Thua Thien - Hue Province. (Photo: SGGP)
In Khanh Hoa Province, a giant rock rolled from the mountain and blocked the north-south railway for hours on Friday morning.
In Hue City, a two-kilometer section of Highway 1A from An Cuu Market to Thuy Duong Flyover was flooded for hours due to heavy rains, causing traffic gridlock.
Some hydropower plants in Lam Dong Province also started to release water. Heavy rains have flooded more than 100 hectares of vegetables and flowers in Hiep An Commune in Duc Trong District.