Six workers died and two others were injured as they were setting up an electric pole in central Thanh Hoa Province's Nong Cong District yesterday (Nov 1).
Most of the victims who work for the Thanh Hoa based Phuong Anh Company and very young.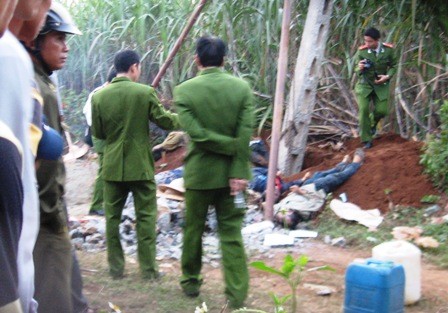 Thanh Hoa police are investigating the scene of the accident
The cause of the terrible accident was due to the carelessness and the poor equipment of the workers.
A witness said the accident occurred when an iron bolt on the electric pole made contact with the high voltage wire, transmitting electricity to an iron capstan which the workers were holding.
Chairman of Nong Cong District Tran Van Thuan said that the District authorities had sent the Red Cross staff to share condolence with the victims' families and offered VND1 million (US$48) in aid to support the victims' families.
Thanh Hoa police are also came to the scene of the accident.
More over the Thanh Hoa police are begin to investigate the cause of the death and the responsibilities of the relevant organs, Thuan added.