At least six people have died and many hospitalized after a fire engulfed Zone 9 bar in downtown Hanoi, a popular entertainment place for Hanoian youth, at 2pm on November19.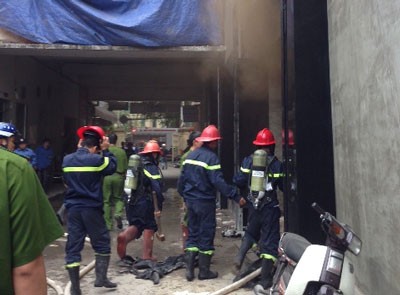 At the scene
Flames engulfed the Zone 9 bar on Tran Thanh Tong Street in Hai Ba Trung District, which was under construction.
Although the flames were not as big as people thought, still six people died and many were injured, including fire fighters.
Many have been hospitalized due to smoke inhalation.
Sitting on the pavement near the bar, Phu Linh, a young man who was lucky to escape the bar, said that while a group of construction workers were arc welding the soundproofing material, sparks hit the acoustic foam on a soundproofing wall and flared a fire.
People tried to put out the fire but because the room was made of inflammable materials, the flames quickly spread and become uncontrollable, causing suffocation for the people inside.
They all scrambled in blind panic to try to find a way out of the bar.
Dozens of firemen and two fire trucks were sent to the scene as soon as possible but had difficulty entering the bar due to thick smoke and panicking workers. Fire fighters had to use masks to rescue people.
It took two hours to bring the fire under control.
Colonel To Xuan Thieu, Deputy Director of the Hanoi Firefighting Department, said all dead people were workers who come from the northern provinces of Hai Duong and Hanoi. Injured people were rushed to Army 108 Hospital.
On the same day, fire fighter leaders visited their juniors in hospital to cheer and encourage them.
The case is now under investigation.
The bar used to be a pharmaceutical factory which had been left unoccupied for years, near Yersin Garden. Recently it had been converted into a bar which attracted many young people.