Three quarters of the 60 crash helmets tested recently by Quality Assurance and Testing Center 3 failed to meet the most important safety standards of resilience and impact resistance.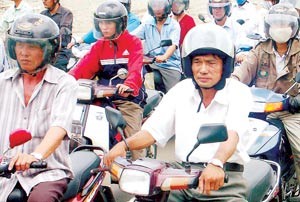 More people start to wear crash helmets

The center's deputy director, Mr. Hoang Lam, says more than 100 crash helmets have been sent in for checking in the last two weeks, most of them manufactured or assembled in local factories. The remaining 40 are being tested now.

The motorcycling public is understandably worried. In Quang Ngai Province, there is real concern about the crash helmets given away by the Bao Viet Insurance Company during a promotion from May to August.

Every buyer of car or motorcycle insurance from Bao Viet received an Amoro crash helmet, but few of the helmets had a verification stamp on them. Moreover, the company could not provide any proof of the helmets' origin.

According to Mr. Trang Quang Toan, deputy chief of the province's Market Control Department, there is a strong possibility that the helmets were imitations and not Amoro. In Quang Ngai, he says, more than 3,000 motorcyclists are using helmets of unknown origin.

Kon Tum is another province where the authorities are worried. Yesterday the Kon Tum People's Committee ordered a thorough investigation of all the helmets available in the local shops to check their authenticity and determine which ones have been smuggled in from abroad.