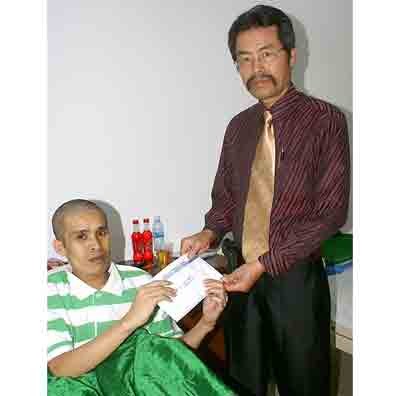 SGGP representative giving Hai (seated) money from readers for his tumor operation (Photo: SGGP)
Many Sai Gon Giai Phong newspaper readers have come forward with donations to help a man named Hai from Da Lat who is in dire need of medical help to remove a tumor from his right leg, weighing about 80 kg.
Sai Gon Giai Phong newspaper published his story in mid June, describing the man's saddened plight and suffering, for the last 10 years. Soon after the story broke, readers have responded overwhelmingly with offers of help.
Last week doctors at the Hoan My general hospital in Da Lat City examined and conducted tests before the surgery, which will take place at the Tumor Hospital in Ho Chi Minh City. Tests so far show the man's health to be fairly stable.
Yesterday Hai was moved to the Tumor Hospital in HCMC for more tests before his operation. Before he was transferred to HCMC, Sai Gon Giai Phong readers in Da Lat gave him VND5.8 million for his surgery and the Hoan My Medical Corporation will support Hai with VND100 million.
When Hai was four years old, the lower part of his right leg developed a growth and by the time he was 17, it became huge and weighed approximately 25 kg. His family took him to the Lam Dong General Hospital for treatment but doctors failed to identify the cause of this growth. His family was keen that doctors surgically remove the extra growth.
By 2001 this growth developed into a tumor that kept growing larger and larger until it covered the entire bottom part of his body. For three years now, Hai has been unable to move and can only sleep sitting up as this giant tumor inhibits his movements.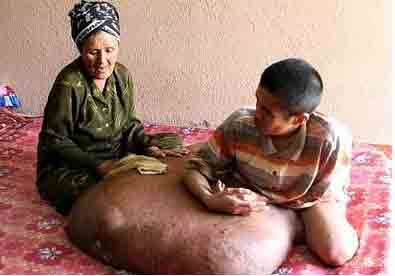 Hai with his mother, who takes care of him
The tumor now weighs about 80 kilograms and is 1 meter in diameter. 31-year-old Hai suffers agonizing pains whenever the weather changes. The tumor causes problems in his day to day activities. Hai is therefore dependent on his 61-year-old mother to look after him in every possible way including taking care of his personal hygiene.
Once his story broke out in newspapers, a group of medics from the Tumor Hospital in HCMC paid him a visit in Da Lat City. After examining him, doctors decided Hai must undergo at least 3 surgeries to remove the 80-kilogram tumor on his right leg. The gigantic tumor will pose considerable challenges for the surgeons, according to doctor Bui Chi Viet, head of the hospital's surgery department. 
Doctors have determined that Hai suffers from a rare genetic disease called von Reckling hausen, which affects 1 out of 3500 individuals worldwide. They explained that this is a rare form of genetic disorder in which nerve tissues grow into tumors.