Yunnan Daily Press Group delegation led by the Editor in Chief Luo Jie September 22 visited Sai Gon Giai Phong Newspaper.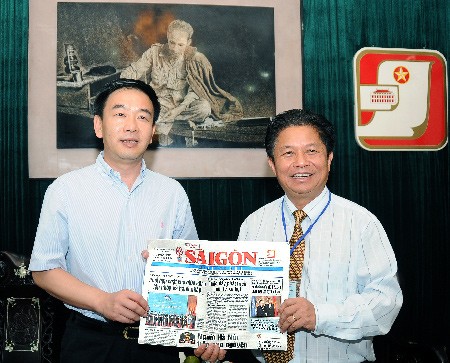 SGGP Editor-in-Chief Tran The Tuyen (R) offers the SGGP publication to Yunnan Daily Press Group Editor-in-Chief Luo Jie. (Photo:SGGP)
The delegation received warm welcome from the Sai Gon Giai Phong editorial board including Editor in Chief Tran The Tuyen, Deputy Editor-in-Chief Nguyen Tan Phong and Deputy Editor in Chief and Chief Editor of Chinese-language newspaper Hoa Van Giai Phong Nguyen Trung Bo.
The SGGP editorial board introduced the establishment and development history of SGGP newspaper.
SGGP and Yunnan Daily Press Group leaders exchanged experiences and discussed about probability of cooperation between two sides.
SGGP also introduce the Chinese-language newspaper, which has been provided to the Chinese community in and out of the city.
Speaking at the meeting, SGGP Editor-in-Chief Tran The Tuyen said SGGP, an organ of the Communist Party cell in Ho Chi Minh City, is the first and only newspaper in the country launch the Chinese-language publication. The Chinese-language publication also helps preserve and bring into play Chinese community's character in Vietnam, Mr. Tuyen added.
Yunnan Daily was established on 4th March 1950.

After 60 years' development, Yunnan Daily is the largest circulated and most-widely read newspaper in Yunnan Province today. Under the authorization of National General Administration of Press and Publication, Yunnan Daily set up the Yunnan Daily Press Group in June 2001, which has 11 newspapers, 4 periodicals and 2 websites now with turnover of VND100 million per year.