Construction of a new health clinic for ethnic minority groups in the mountain district of Huong Khe in Ha Tinh Province began Nov 17 as part of Sai Gon Giai Phong Newpaper's charity program 'Sentimental attachment for Truong Son Road'.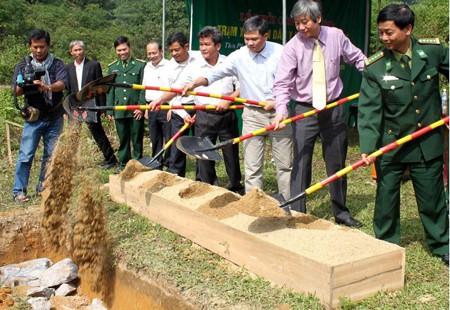 Representatives of SGGP and Border Guard Headquarters in Ha Tinh Province at the groundbreaking ceremony of construction clinic (Photo:SGGP)
Construction of the new health care clinic is being conducted by the Border Guard Headquarters, to be built at a total cost of VND534 million (US$26,700) donated by Saigon Beer-Alcohol-Beverage Joint Stock Company. The clinic will include treatment rooms, houses for doctors and some auxiliary medical facility areas.
The clinic is expected to be complete by 2012.
Earlier, representatives of SGGP donated a house to veteran Truong Xuan Dai of Nghe An Province.
This is the 51st charitable house donated to veterans and poor people of Nghe An Province.
Related article:
VietinBank to donate $2.6 million for SGGP charity program
SGGP charity program offered donation for second phase