In some northern provinces whirlwind and torrential rains wreaked widespread destruction of property and vegetables.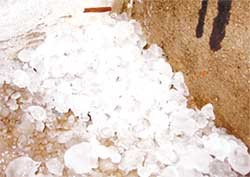 Ice from the hailstone
A sudden whirlwind and thundery rain, lasting over 20 minutes, came down in the mountainous provinces of Bac Kan.
As a result, a pole, trees, street lights and telephone wires fell down in the streets; motors and glass windows broke, accompanied by damaged fruits.
Moreover, more than 100 roofs of houses were blown up in precinct Song Cau, 86 in commune Thuong Quan and 37 in Thuong An commune of the northern province of Bac Kan.
Deputy Head of the Central Steering Committee for Storm and Flood Control Pham Tat Thang said the hail with 3 to 7 cm-in-diameter balls of ice was so heavy.
Currently, the state agencies are making statistics of vegetables and fruits damages and others due to hailstone.
The hailstone also caused damages of property and fruits in the northern province of Vinh Phuc. 1,490 hectares of fruits and vegetables and 15 hectares of rice were ravaged by the statistics.
Trees in front of the temp for Hung Kings fall down
The hail devastated two houses, nearly 40 hectares of rice, vegetables and corn and blew up two house tops in Muong Te district.

The government in hailstone-hit localities sent emergency crews to help victims overcome the disaster.
According to some inhabitants, the hail is uncommon as it has never happened in the area at this time.
More than 1,000 rare trees were uprooted in the temple for Hung Kings in the northern province of Vinh Phuc. The damages count up to VND1.5 billion by statistics.
The steering board of Phu Tho Central Steering Committee for Storm and Flood Control sent its men to assist people.
Many people in the streets were frightened by the hail and sought shelters in the houses along the streets. The hailstone destroyed some house glass windows and tops in Cau Giay and Linh Dam districts.
Many Hanoians went out yesterday to visit their teachers on the occasion of Teacher's Day, the sleet thus caused traffic jam.
In addition, the ice rain made Ba Trieu, Quang Trung, Ton Duc Thang, Nguyen Luong Bang, Nguyen Trai Streets and the Boc pagoda submerged in the flood.
Out-of-season rain appeared in some districts in Ho Chi Minh City and southern provinces yesterday afternoon, said an official from the Meteorology and Hydrology Station in the south region.
More information is that from now to year-end, the weather is quite hot in the south.