Several illegal parking lots have sprung up in Hanoi immediately after the city banned and revoked license of all those operating along 262 streets in the city.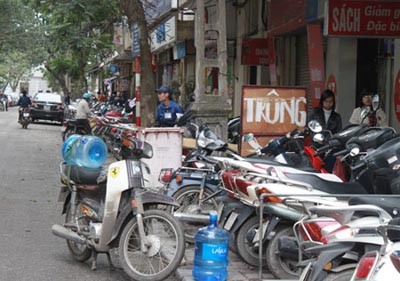 Illegal parking lots are operating along Dinh Le Street in Hanoi (Photo: giaothongvantai.com.vn)
The Department of Transport, the Police and authorities in nine districts in the city have reviewed results after one week of the ban and conclude that several roads in the city have become much more spacious.
However, a slew of other illegal parking areas have sprouted across the city. When the parking lot in front of Central Eye Hospital in Hai Ba Trung District was closed, residents in surrounding areas opened parking services in their houses, collecting up to VND10,000-15,000 per motorcycle.
Similarly, now many parking areas are operating along smaller streets like Ngo Van So, Tran Quoc Toan, Tue Tinh, Ba Trieu, Ham Long, Dinh Le and Tran Nguyen Han in Hai Ba Trung District.
Although these parking areas are illegal and do not issue parking tickets or charge very high fees, several people still use them to park their vehicles, as they have no choice.
Nguyen Quoc Hung, director of the Department of Transport said that the department will identify streets with less traffic flow, where parking lots can operate.  In the long term, the city has a project to construct more parking lots.
For the time being, the department will not issue a license to any organisation or individual to run a parking lot service along any of the 262 banned street areas.

Related article:
Hanoi bans parking along 262 city streets