One of the most important tasks for Vietnam to carry out in the midst of global climate change is to protect the Mekong Delta against flooding and seawater intrusion in order to protect residents and their land.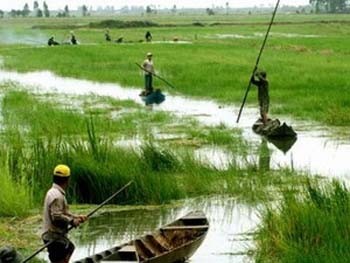 Up to 38 percent of land in the Mekong Delta could be inundated if seawater rises one meter, experts have said (Photo: VNA)
Minister of Natural Resources and Environment Pham Khoi Nguyen made the statement on March 29 in the Mekong Delta City of Can Tho at a seminar on coping with climate change and seawater penetration.
The conference was organized by the ministry and Dutch Embassy.
According to experts, 19-38 percent of the delta area will be submerged if seawater rises one meter.
Minister Nguyen said that his ministry has coordinated with six coastal provinces in the delta to tackle climate change.
At the seminar, delegates said Vietnam should learn from Holland and implement Dutch technology to prevent floods and seawater penetration.
It is necessary to build a system of reservoirs to contain flood and rain water, research tree varieties that can live with drought and salt penetration, and design observation and short-term forecast stations to strengthen coping efforts, delegates added.