Several delegates at a seminar hosted by the National Traffic Safety Committee in Hanoi on Tuesday were of the opinion that penalties for drunk driving should be raised for automobile and motorcycle drivers in Vietnam.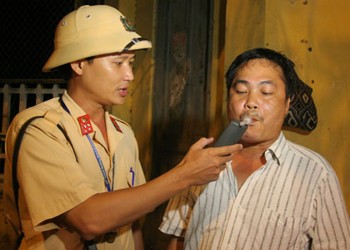 A police officer conducts a breath analysis test on a driver (Photo: VnExpress)
According to Colonel Nguyen Anh Tuan, deputy head of Road and Railway Traffic Police Department, penalties should be increased 2.5 times for automobile drivers and 2 times for motorcyclists.
He also proposed other punishments like impounding of driving license, confiscating vehicles and making it mandatory for drivers to attend courses on road traffic safety, whenever they make an offence.
According to conclusions made at the seminar, up to 40 percent of traffic accidents are caused by drunk drivers and 11 percent of deaths occur as a result of alcohol.
Delegates at the seminar suggested an increase in alcohol taxes, prohibition of advertising and financing of wine and beer, banning public servants from drinking during working hours and in public places.
Vietnam has 35 bylaws, decrees and circulars on this issue. Several provinces and departments also have internal regulations to restrict drinking of alcohol, but conditions remain unchanged.