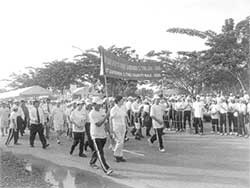 The frist Lawrence S.Ting walk in 2006
The second Lawrence S. Ting charity walk is expected to kick off in the southern area of Ho Chi Minh City on January 14 with the participation of thousands of citizens.
The walk is part of the tradition charity activities organized by the Lawrence S. Ting Fund in commemoration of Mr. Lawrence S. Ting, the late Chairman of the Phu My Hung Joint Venture Company and the Taiwan's Central Trading and Development (CT&D) Corporation.
Other co-organizers of this year event are the city's Department of Sports and Physical Training, the municipal Federation of Track-and-Field and the Gymnasium and Sports Center of District 7.
Last year, almost 10,000 people participated in the first Lawrence S. Ting charity walk in Ho Chi Minh City's Phu My Hung new urban buildings. The charity walk raised over VND145 million to support the poor families in District 7.
With the donation from various sources, the Lawrence S. Ting Fund will be used to support charity programs in the fields of health, education, and infrastructural constructions in underprivileged areas of Ho Chi Minh City.
Volunteers are encouraged to join the walk by contacting the organizers or financially contribute to the fund before January 8 by the telephone number 4118888, fax 4115678, or Mr. Le Thuong (0913677488, lethuong@pmh.com.vn)