A team of scientists has arrived in the central province of Quang Nam to study the cause of reoccurring earthquakes around the Song Tranh 2 Hydropower Plant in Bac Tra My District in recent days.
Dr Le Huy Minh, deputy head of the Institute of Global Physics and director of the Vietnam Earthquake Information and Tsunami Warning Center, is heading the team of scientists that arrived in Bac Tra My District, where the plant is located, on September 8.
The scientist team heard reports from district authorities and has held a meeting with the provincial People's Committee before conducting field surveys to ascertain cause of the recurring earthquakes.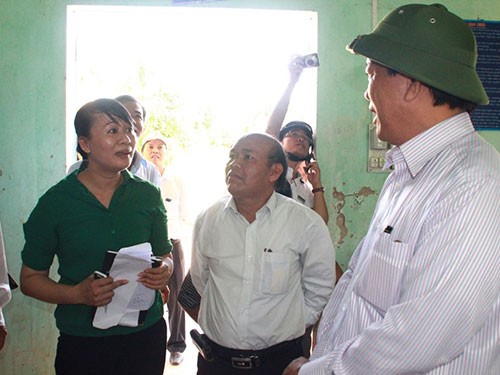 Experts talking to local people in earth quakes struck area ( photo Dantri )
Dr. Minh said that experts have begun a 10-day inspection of the area in a bid to draw final conclusions about the causes and patterns of the recurring earthquakes.
At 3am on September 8, people in Tra Doc Commune of Bac Tra My District were jolted by a strong magnitude earthquake accompanied by a loud bang from the ground that shook houses.
Local residents now are looking forward to an early clue as to the cause of these earthquakes, which will then put them at ease.
At least 11 tremors have been recorded in the area during the past four days, with two latest occurring yesterday, September 7, measuring 4.3 on the Richter scale, according to Dinh Van Thu, Vice Chairman of the People's Committee of Quang Nam Province.
Another quake of the same intensity occurred on September 3, when many people had to flee their homes.
These quakes have caused cracks in houses after intense shaking of the ground, creating panic among thousands of local residents in the district and surrounding areas.
Dang Phong, chairman of the People's Committee of Bac Tra My District has asked the experts to clarify whether the quakes are being caused by underground factors or other reasons.
He warned that earthquakes of five or more on the scale have the potential to destroy nearby houses.
Dr. Minh said the group will work until September 12 and will inform results of their survey to local authorities and the media.
He said local authorities have updated residents on the situation and are taking preventive measures to mitigate losses.
Nguyen Hong Phuong, deputy director of the Earthquake and Tsunami Warning Center at the Institute of Geophysics said the hydropower plant was safe because the dam was designed to withstand a 5.5 magnitude earthquake.
But he warned that tremors and earthquakes have become increasingly powerful.
According to the institute, the earthquakes could possibly be a result of instabilities in shear zones Tra Bong, Hung Nhuong-Ta Vi in close proximity of Song Tranh 2 Hydropower Plant reservoir.
Meanwhile, Dr Nguyen Dinh Xuyen, an expert in geophysics said the sequence of earthquakes in this area, which started at the end of last year, were happening according to the rule of earthquake excitation by water storage in the plant reservoir.
"This means that water storage in the reservoir below a specific level will trigger a sequence of earthquakes and tremors. This sequence will come to an end when the strongest earthquake strikes, which as a rule never exceeds the reservoir design limit," he said.
He added, "This sequence is yet to end but is forecast not to go beyond 5-5.5 on the Richter scale, which may last for several years."
Xuyen added, "This situation is similar to that at the Hoa Binh Hydropower Plant in 1989 when the water storage level reached 85 metres and a sequence of earthquakes with stronger acceleration hit the region. The 5 magnitude earthquake, the strongest one of the sequence, struck two years later. This was followed by weaker earthquakes which eventually ceased after a five-year sequence."
Experts called for earthquake observation stations to be set up to provide specific long-term data, so that the consequences of future earthquakes can be accurately predicted.
Four stations within Song Tranh dam are planned and would be able to record and analyze key data when an earthquake strikes.
The scientist team will conduct detailed study of the geological dynamics near Hoa Phuong nursery school and Le Hong Phong secondary school in Bac Tra My District for this purpose.