Salt production in the northern province of Nam Dinh has declined to a large extent as many salt workers have quit their job.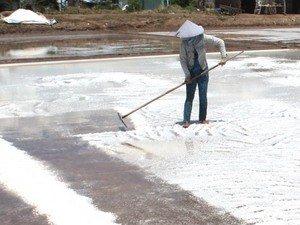 A salt farmer making salt in a field in Nam Dinh (Photo: Vietnamplus)
At the last count, the province had 19 co-operatives with approx. 15,000 salt workers and 850 hectares of producible area. However, according to Tran Ba Thiet, deputy director of Nam Dinh Rural Development Sub-department, salt production in the entire province since the beginning of this year was only 28,000 tons and just 32 percent of the target volume, down by 20 percent since last year.
There are two reasons for this drastic decline in salt output. The first reason is this year's unfavorable weather conditions (only 25-27 sunny days since the beginning of the harvest) plus late harvest time (1 month later than usual).
Second reason is that the price of salt at present is only VND900-1,000 per kilo (about US$0.04-0.05), the same as last year, while overhead expenses and costs of living have increased day by day, causing a large number of salt workers to switch to aquaculture.
At a daily wage of merely VND30,000-40,000 (about US$1.5-2), it is no wonder that some leave this job and become bricklayers etc., for a much higher wage of VND100,000 (around US$5).
Consequently, the local government is deploying various methods to motivate workers to stay on this job. The People's Committee of Nam Dinh has extracted more than VND500 million (about US$24,400) from the Rural Industry Development Fund to operate 6 clean salt manufacturing facilities and changing salt filter positions to achieve higher productivity as well as increase the value of salt.