Heavy salt penetration in parts of the Mekong Delta has caused widespread damage to agricultural land and destroyed crops across thousands of hectares.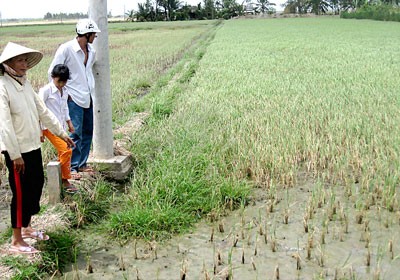 Several areas under spring-summer rice cultivation have been destroyed from salt intrusion in Soc Trang Province (Photo: SGGP)
According to the Irrigation Department in Ben Tre Province, salt intrusion has destroyed nearly 5,000 hectares of rice crops in Thanh Phu, Ba Tri, Binh Dai and Chau Thanh.
Salt water has killed about 4,200 hectares of fruit trees, 2,000 hectares of cacao and 320 hectares of oysters.
Salt intrusion has also led to severe water shortage for daily use for nearly 85,000 households, who now have to buy fresh water at a high cost. Damage costs from salt intrusion in Ben Tre Province now exceed VND81.4 billion (US$4 million).
Soc Trang Province has lost 2,000 hectares of rice crops in many of its districts including Tran De and Long Phu, from excessive salt water.
Local farmers have seeded upto 56,000 hectares of spring-summer rice regardless of the agriculture industry's advice to grow only 40,000 hectares.