While prices of many commodities are steadily increasing and sales turnover of books also dropping, the Book Distribution Corporation (Fahasa) in Ho Chi Minh City has announced revenues of VND1,550 billion (US$74,376), a year-on-year increase of 10 percent.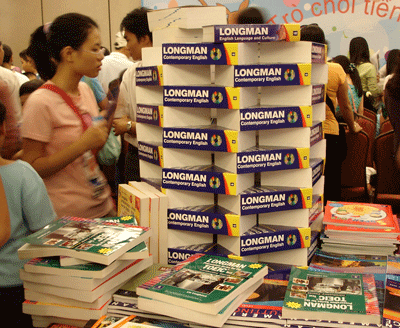 Book lovers browse in the store (Photo: U. Phuong)
As a leading book retailer and publisher in the country, Fahasa is playing a vital role in assessing the book market value. No surprises that it has continued to be on the top 10 leading retailers list in the country this year and the last.
This year, the company is seeing an economic downturn as people have cut down on spending, with books being one of the first expenses to be cut. In fact, many book distributors, stores and publishers may even have to close operations or just work perfunctorily.
On the other hand, Fahasa is really a large company with many stores across the country. All Fahasa book stores in provinces are large ones with a wide variety of books, a concept that has proved successful in Hanoi, where people prefer reading books in small stores. Nonetheless, this successful model has brought in huge revenues to Fahasa.
Fahasa shops also sell stationery items, music CDs for children, study items like notebooks, rulers, pencil etc which also help raise turnover dramatically. This is the same in other large book stores like Nguyen Van Cu or Phuong Nam, proving the success of large premises that can be used for other businesses like selling toys or coffee restaurants where readers both read and relax.
Small stores can beat the competition with larger stores by selling specialized books. For instance, a small store at 245 Nguyen Thi Minh Khai in Hanoi only sells literature, history and old books published a long-long time ago to special readers.
In context of the economic downturn, businesses will struggle with many challenges, especially in book trading. However, if enterprises stand firm during difficult times, build innovative marketing strategies that create a difference in attracting book lovers, they will be able to succeed as well as retain their markets.