Recent reports on waste discharge into the Saigon River warn that the river is losing its self-purification and will 'die' if no immediate action is taken.

The reports, by the HCMC Department of Science and Technology, and Southern Hydrometeorology and Environment Sub-Institute, said that the some 70,000 cubic meters of waste water are discharged from residential quarters and industrial zones and export processing zones into the river daily.

Test results of river water showed that the content of TSS (total suspended solids dissolved) in 70,000 discharged cubic meters of water is 13.9 tons, chemical oxygen demand (COD) 14.3 tons, biochemical oxygen demand (BOD) 6.8 tons, nitrogen compound 1.9 tons and phosphorous compound 248 tons, many times of allowable limits.

Observation results recently made by HCMC Environment Protection Agency revealed that since 2000, the concentration of DO (dissolved oxygen), BOD, COD and coliforms in the river water has continued on an upward trend, with pH, DO, BOD and COD increasing twofold while coliforms 71 times.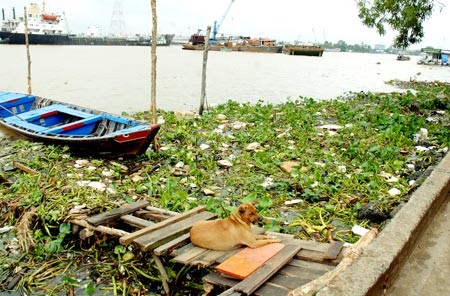 Garbage and water hyacinth caught along the bank of Sai Gon River
According to Dr. Nguyen Ky Phung, deputy director of Southern Hydrometeorology and Environment Sub-institute, the two real culprits responsible for pollution is untreated wastewater from residential zones' daily activities and the industrial wastewater from industrial zones, export processing zones, industrial clusters and handicraft workshops.

Dr Phung pointed out that there are now 27 industrial zones and export processing zones located along the valley of the river attracting businesses that are mostly involved in dyes, textiles, leather, food, timber and garment manufacture or processing.

While such production and processing activities need a lot of water, they also discharge a large volume of wastewater at the same time, he said.

The untreated wastewater of the businesses, coupled with the untreated wastewater released from the daily living of more than six million city residents, has deteriorated the quality of the river critically day after day, he added.

It is estimated that by the end of 2020, the volume of untreated wastewater to be dumped into the river will rise four or five times, posing a death threat to the river if relevant authorities do not take action immediately.

To control the quality of discharged wastewater, Dr. Nguyen Dinh Tuan, principal of the HCMC Natural Resources and Environment College, said that the city has built ten wastewater observation stations with an average random testing frequency around once a month.

Since such a frequency is not enough to carry out effective tests on water quality, Dr Tuan emphasized that it is necessary to build automatic observation stations so that it can test the quality of wastewater discharged by treatment systems from industrial zones and export processing zones on a more regular basis.

According to Dr Tuan, Binh Duong Province is investing in building a system of automatic observation stations while Ho Chi Minh City is outlining a plan for it.

It is estimated that building a system consisting of 13 automatic observation stations will cost HCM City VND15 billion, but such a costs are trivial compared with the total estimated expenses of some VND1 trillion that the Government will be expected to spend on purifying and protecting the quality of Dong Nai River (the main branch of the Saigon River).

Dr. Nguyen Ky Phung, stressed that the Government should build up a strategy for management of natural resources of surface water.

Such a strategy, said Dr Phung, should be built based on criteria on water quality management, which will help to determine a specific water quality system suitable for the geography and natural hydrology of specific region or area.

Dr Phung emphasized that although the source of surface water of Saigon River have so far been a main supply for socio-economic activities for all people living in the valley of the river, relevant authorities have not yet had any effective scheme to protect it.

Dr Phung pointed out that despite the Steering Board for Protecting the Quality of Dong Nai River being set up two years ago, it has not yet been able to initiate any common action program.

He warned that if relevant authorities fail to have effective and appropriate management measures, it is probable that by 2020, socio-economic activities of the whole system in the Southern key economic areas will be face difficulties due the shortage of water supplies.