Both the Saigon and Dong Nai Rivers are the two main source of water for a population of around 20 million people; however, instead of being protected and conserved, these rivers are dumped with hundreds of tons of toxic waste every day.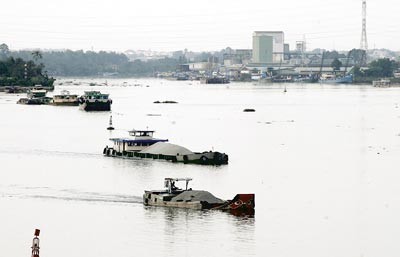 The Dong Nai River is seriously polluted. (Photo: SGGP)
Water of the Saigon River passing through Thoi An Commune in Hoc Mon District, Binh Loi Bridge in Thu Duc District, and Tham Luong Canal in District 12 has a constant nasty smell. These areas have many manufacturing companies that are environmentally harmful industries such as, dyeing, garment and textile, food processing, and cosmetic chemicals.
According to environmental monitoring officers of the Environment Protection Agency, most companies discharge waste and wastewater directly into the Saigon River.
Similarly, the river water flowing through Lai Thieu Ward in Binh Duong Province is also heavily polluted because of wastewater from some ceramic factories and riverside restaurants. Most of them discard all kinds of waste into the Saigon River.
Water pollution is getting worse in the upper reaches of the river. According to a local resident, every time manufacturing companies discharge wastewater, floating fish farms are the first to take the hit as fish die in just one night. Most local residents say that even without measuring or monitoring devices they can lay the blame for massive fish deaths on companies who release untreated wastewater into the river.
Authorities have to base proof on waste concentration to slap penalty on violating businesses. However, by the time authorities take water samples for toxic testing, harmful wastes have already flowed to the lower reaches or to the sea.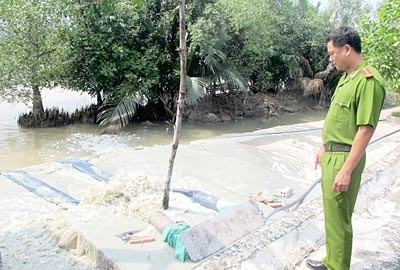 Environment police catch Hao Duong Leather Tanning Joint Stock Company red-handed when it is releasing untreated wastewater into the Dong Dien River. (Photo: SGGP)
Tran Van Sua, Deputy Chairman of Farmers Association of Thong Nhat Ward in Bien Hoa City in Dong Nai Province, said that since 2010, floating fish farms have seen massive fish deaths due to wastewater released by factories along the Dong Nai River for more than ten times. However, neither local authorities nor farmers have any evidence to punish or sue these factories. Most fish breeders in Dong Nai River could not endure the loss and sought to find another livelihood.
The Dong Nai River is not only poisoned by toxic waste and wastewater but also by hydropower plants that were built densely along it. Until now, there are up to 23 hydropower plants along the Saigon and Dong Nai Rivers. The existence of so many hydropower plants, not to mention chopping down of trees to clear land to build these plants has also caused the ecosystem in the upper and middle reaches to be destroyed.
A representative of the Department of Industry and Trade in Ho Chi Minh City affirmed that there are seven hydropower dams that are in operation or will be operated in the main stream of the Dong Nai River; six in the Be River; and five in the La Nga River. Hydropower plants have changed the natural flow of the river, causing higher flooding in rainy season and severer drought in dry season.
In 2010, in order to protect waters of the Dong Nai River, Ho Chi Minh City had proposed to the Government to terminate construction of 20 hydropower plants along the Dong Nai River.