Japan's Obayashi Corporation has started making the four prefabricated sections that will lie at the bottom of the Sai Gon River and form Thu Thiem Tunnel, the most ambitious feature of the East West Highway Project in Ho Chi Minh City.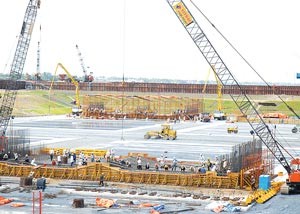 The Thu Thiem Tunnel's construction site

More than 500 engineers and other employees of the Japanese firm are busy at the 25-hectare construction site in Nhon Trach District in neighboring Dong Nai Province. They hope to have all four sections, which measure 98 by 33 by 9 meters each, ready by April next year.

After that, the sections will be transported by barge to the Sai Gon River, sealed at both ends then sunk into position. Once connected, they will form a six-lane tunnel able to carry 30,000 vehicles a day.

Work on the 32-kilometer East West Highway began on January 31, 2005 and should be completed by 2009.

The project's investment capital of VND9,864 billion (US$616.5 million) includes the equivalent of VND6,394 billion from the Japan Bank for International Corporation. The rest is coming from the city's budget.